Cookies with Kerri- Creativity, Coping, and Cookies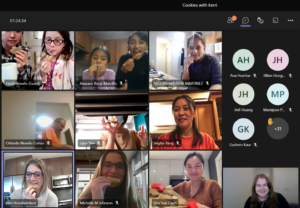 The holiday season is the perfect time for gathering with friends, new and old, and sampling sweet treats.
This heart-warming combination came together in a special virtual event planned by RRC Polytech's Language Training Centre (LTC) and Student Life as part of the Healthy Minds, Healthy College Strategy. 
"Cookies with Kerri," hosted by Kerri Korabelnikov, dean for the School of Education, Arts & Sciences, saw 50 students register for an online chocolate chip cookie baking lesson. While everyone got to enjoy a tasty treat at the end, the aim of the event went beyond baking.
"This wasn't about just chocolate chip cookies, it was about connecting with people and creating a community," says Korabelnikov. "It was very energizing; everyone was laughing and having a lot of fun."
Students now living in Winnipeg but originally from around the world, including Korea, Mexico, and Colombia, collected ingredient kits in advance. On a blustery December evening, they joined together to participate step-by-step in a two-hour online session, hosted by Korabelnikov and supported by Michelle Johnson, manager of Student Integration and Employment Outreach at the LTC.
Students were also encouraged to involve their children in the cookie-making class, which made the experience even more special, says Korabelnikov.
The online baking activity was a family affair for LTC student Heidi Novelo Poot and her eight-year-old daughter, Maya.
"It was something different that you can enjoy with the kids and meet other people," says Novelo Poot. "She (Maya) was so proud, and I think that was the best part. And those cookies were very good, and the recipe was easy."
Another student, Gabriel Novelo (no relation to Novelo Poot), has been in Manitoba since moving from Mexico in August and is taking classes with the LTC. Activities like "Cookies with Kerri" are a good way to connect with people, Novelo says, something that is more challenging in the middle of a pandemic.
"I wanted to participate with students from other classes. As a newcomer, I need to be in touch with as many students as possible," Novelo says. "As a newcomer, you need to integrate and take part in all of the activities."
For Novelo, who operated a food truck in Mexico, the experience marked another first.
"It was fantastic because I used to cook in my food truck, but I never baked. This was the first time I had the chance to bake something," says Novelo, adding the cookies "magically disappeared" quickly.
In addition to building a stronger sense of community, there are other positive mental health benefits to activities like baking, says Pamela Villafranca, Mental Health Coordinator at RRC Polytech.
"We want to introduce students to different self-care activities. We may not think of it this way, but cooking, baking and prepping food can be a form of self-care; it can be therapeutic for some folks, the process of working with your hands, mixing the ingredients, and getting to sample the final product can feel really good," says Villafranca. "This workshop promoted connection and community building, and taking a break from your studies to learn a new skill."
Villafranca shares some key wellness tips to stay connected and support your mental health:
Find ways to stay connected with your peers and your instructors – join group chats, use instructor office hours, turn on your video in class, and participate, such as asking questions in class
Recognize that we need a variety of forms of self-care, and we may need varying types of self-care at different times of our lives
Try something new! Baking cookies is one example of a self-care activity that helps you get creative, learn something new, and work with your hands
Learn about the services that you can access for support, including the Mental Health Coordinator and Student Support Services department
Above all, Villafranca notes: "We want the students to know that staff and faculty are here for them, and we want to support them."
To learn more about wellness initiatives at RRC Polytech, the Healthy Minds Healthy College Blog. 
You can also try out Kerri's Favorite Chocolate Chip Cookies
Chocolate Chip Cookie Recipe
Ingredients
| | |
| --- | --- |
| 1/2 cup white sugar | 1 tsp baking soda |
| 1 cup margarine or butter | 2 tsp hot water |
| 1 1/2 cups brown sugar | 2 eggs |
| | 2 tsp vanilla |
| | 1 tsp salt |
| | 3 cups flour |
| | 1 cup chocolate chips |
Baking Instructions
Preheat oven to 350F
Mix white sugar, margarine or butter and brown sugar together
Combine baking soda and hot water in separate dish
Add baking soda/water, eggs, vanilla, salt, and flour to sugar mixture and stir
Stir in chocolate chips
Form dough into small balls and place on cookie sheet
Bake at 350F for 9 -11 minutes
Remove cookies from cookie sheet and let cool
Enjoy your delicious cookies
And feel free to reach out and let us know what you think!