Moving Out of Residence
We hope that you enjoyed your stay at Red River College Polytechnic in the Paterson GlobalFoods Institute. We wish you all the best and hope that you leave our Residence with fond memories.
To make your move-out go as smoothly as possible, please read through the following items and ensure that you have done the tasks required to leave your suite in great condition so you can get as much of your Residence deposit back as possible.
Please ensure the Campus Living Office has the information and things they need to process your move-out efficiently and effectively.
Move Out Dates
You are required to move out no later than the date specified on your Residence Contract. Should you exceed your vacate date, charges may apply and your items may be removed.
When You Leave Your Unit
Return your suite to move-in condition: see below
Ensure your windows are closed and locked
Lock the door when you leave your suite for the final time
Return your keys/cards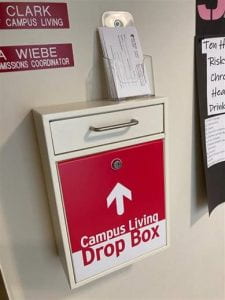 Pick up a move-out envelope from the Campus Living Drop Box in the 4th floor hallway (just outside the Campus Living Office)

Write in the information requested on the envelope
Place your key fob, mailbox key and laundry card in the envelope
Seal the envelope and place it in the Drop Box.
Returning Your Suite to Move-In Condition
To maximize the refundable amount of your $350 Residence deposit we require your suite to be returned to move-in condition, which means:
Your suite is clean
If you moved your furniture during your stay, ensure that all items are returned to their original position.
Remove all belongings
Throw out any garbage/recycling in the designated bins in the basement and ensure your garbage and recycling bins are clean when you leave them
Charges may be placed on your Residence account in the event of damage or vandalism. Any regular damage consistent with routine wear-and-tear or damage noted in the move-in assessment of the Room Condition Report will not be charged.
Your room will be inspected by Campus Living staff after you move out; you are not required to be present.
Residence Deposit Refund
Any refundable portion of your Residence deposit will be returned to you within one to three months of your move-out date to the original form of payment the initial deposit was made. If your Residence deposit was originally paid by credit card, the reimbursement will go back onto the same credit card. If your Residence deposit was originally paid by a cheque, cash, or debit, your reimbursement can be expedited as a direct deposit to your bank account. Please go to WebAdvisor to set up your direct deposit information, otherwise your cheque will be mailed to the home address RRC Polytech has on file.
You must provide your new mailing address on your move-out envelope or by emailing the Campus Living Office at residence@rrc.ca. Your Residence deposit refund will only be issued to you after your forwarding address has been added to RRC Polytech records. No refund will be issued to anyone whose address in RRC Polytech records is still listed as "504 Main Street".
Mail
You are responsible for checking your mailbox before you leave and to arrange for your mail to be sent to your forwarding address. We will not hold mail, nor will we send it to you at your forwarding address. All mail will be returned to the sender.
Tenant Reference
If you are moving to another housing situation that requires a tenant reference, our office is more than happy to provide one for you as long as we have your written consent. Log in to eRezLife and submit a Tenant Reference Form. This gives our office permission to release information to future landlords that includes, but is not limited to, payment history, incident reports, conduct, and any items that pertain to the condition of the suite(s) that you inhabited during your stay with Campus Living (can include cleaning, damage/vandalism).