Frequently Asked Questions
We hope to answer as many common questions about the Residence as possible. If we've missed one, please don't hesitate to contact us and ask!
How much does it cost to live in the Residence?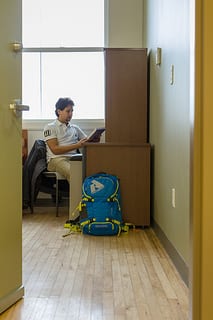 The room fees vary based on length of stay and room type, but the standard rate is approximately $2900 per 4-month term. There is also a $50 application fee and a $350 deposit.
The Residence fee includes all utilities and Internet. The fee is for the room only; it does not include food. Learn more about Residence fees here >
Where can I eat? May I cook my own food?
On the ground floor of the Residence building is the Culinary Exchange, a public food court offering various breakfast, lunch, and dinner items prepared by students in RRC Polytech's Culinary Arts program. See more information here >
There is a fully equipped shared kitchen in the Residence where students may cook their own meals. The kitchen is available 24 hours a day.
Each suite contains a fridge and microwave. Residents may do basic food preparation in their suites, but cooking must be done in the shared kitchen.
What do the rooms looks like?
You can see 360 Tours of various spaces in the Residence here:
How do I apply for a room?
The Residence application process is explained in detail here >
Can I live there with my spouse or family?
The rooms in the Residence are for individual post-secondary students. RRC Polytech does not have housing for families.
Where can I park?
The Residence does not have a parking lot. Any Resident who brings their own vehicle needs to make private arrangements for parking. See more information here >
Where is the Residence? What if my classes are held at a different campus?
RRC Polytech has one Residence. It is located at 504 Main Street in the Paterson GlobalFoods Institute building (PGI). PGI is part of the Exchange District Campus (EDC).
The Notre Dame Campus (NDC) does not have a Residence, but students who have their classes at NDC can live in the Residence. There is a city bus that runs between the Residence and NDC.
Is there bus service between RRC Polytech campuses?
Winnipeg Transit bus route #26 travels from a bus stop across the street from the Residence to the bus loop at the Notre Dame Campus. It runs 2-3 times per hour, between the hours of about 06:00 to 19:00. The journey time is 20-25 minutes each way. See more information here >
Is there a curfew?
Residents have 24-hour access to the Residence building. There is no curfew.
Is there security on-site?
Security staff are on duty in the Residence 24 hours a day.
Can I have guests in the Residence?
Yes, you can have guests. Guests must be signed in and out at the Security desk.
During the COVID-19 pandemic, the Campus Living guest policy is updated as public health restrictions change. See section 3.8 Guests of the Residence Handbook for the latest policy.
Is the use of alcohol or cannabis allowed?
Some possession/consumption of alcohol or cannabis may be allowed, provided you adhere to the Residence policies.
See section 3.13 Alcohol of the Residence Handbook for policies related to alcohol in the Residence.
Note: Alcohol may not be possessed or consumed by any person under the legal drinking age of 18 in the Province of Manitoba.
Possession of open liquor is permitted only within the Resident's suite and Residence lounges. See section 3.13 Alcohol of the Residence Handbook for policies related to alcohol in the Residence.
See section 3.15A Cannabis/Marijuana of the Residence Handbook for policies related to cannabis.
Note: Residents/Guests age 19 years and older may possess up to the legal limit of cannabis for personal use.
Smoking, vaping, bong use, or any other form of cannabis inhalation are prohibited anywhere on College property, including Residence; this extends to cannabis for medical purposes.
Can I live in the Residence during the summer?
The Residence is open year-round. Students may live in the Residence during any academic term that they are registered in.
Students whose academic program runs during the regular academic year (Fall-Winter) may apply to live in the Residence during the Summer term (between academic years) if they are continuing on in the Residence for the Fall term.
What is RRC Polytech doing to keep Residents safe during the COVID-19 pandemic?
These are some of the ways we are reducing the risk of COVID-19 in the Residence:
Red River College Polytechnic requires COVID-19 vaccine on campus for Fall term. See RRC Polytech's COVID-19 Policy for details.
New signage and instructions installed throughout the building to ensure proper physical distancing.
Increased cleaning/disinfecting of all communal and highly touched areas
Enforcement of the College Mask Policy
Reduction in Residence occupancy; not all rooms will be rented
Reduction of occupancy in all communal spaces
Changes to Guest Policy
All Residence programming will be virtual, outdoors or limited to a maximum number of participants.
Updated Self-Isolation procedure for Residents
Who is responsible for cleaning the Residence?
Each Resident is responsible for cleaning their own suite.
Shared spaces in the Residence (lounges, laundry rooms, kitchen, elevators, and hallways) are cleaned daily by professional cleaners.
I want to live in the Residence for more than one term. How do I apply to stay longer?
Every four-month term (Fall, Winter, and Spring) requires its own separate application.
To extend your stay in the Residence, you will need to apply for each new term when applications open for that term. A current Resident who applies to extend their stay does not need to pay another application fee or deposit.
I received an email from Campus Living that told me my fees are due by a certain date in the future, but when I look at my HUB account, it shows that my fees are overdue. Which one is correct?
The HUB system can only show the due date of the earliest invoice that was issued for a particular term. In most cases, it will show the due date of your application fee.
There is a note on the HUB that says, "Please refer to your communication for your specific payment due date". This means that the emails you receive from Campus Living will show your correct Residence payment due dates.