Creative Communications grad parlays love of storytelling into role supporting economic development
Looking at the story of Eleanor Coopsammy's career so far, there's a lot of foreshadowing that she would end up as a journalist.
"I would sit behind a piano and pretend I was an anchor or a teacher. My mom even found an old news script I wrote," says Coopsammy, a graduate of RRC Polytech's Creative Communications program.
"I did quite a bit of public speaking when I was younger, and the journalism teacher at my high school asked me if I had thought about a career in radio or TV."
In her high school yearbook write-up, Coopsammy's blurb said she was most likely to take over from Oprah Winfrey. While this prediction didn't quite come true, she did go on to create her own legacy at CTV Winnipeg.
She worked there for 16 years, and in that time, served in many roles and covered everything from politics to consumer trends, eventually becoming the host of CTV Morning Live.
"My first love was news, and I did develop an interest in business stories," says Coopsammy. "Meeting new people, telling stories, learning about different things — those are all my favourite things."
Coopsammy double-majored in history and English at the University of Winnipeg, all while holding on to her interest in journalism. She says she heard about the Creative Communications program while at UWinnipeg and was told that it was tough to get in, but she applied anyway and got accepted in 1997.
Coopsammy says the program opened many doors for her career, and instructors like Dean Cooper (who is still a media production instructor at RRC Polytech) had a lot to do with that. At the time, Cooper worked with local studios to revamp the College's TV studio, and Coopsammy says it created access to opportunities on the television side for students.
She eventually worked at CTV with then-host Joanne Kelly, who is also currently an RRC Polytech instructor, teaching journalism.
"She had a profound effect on me, and I can only imagine the profound impact she is having on tomorrow's grads."
Looking back, Coopsammy says she appreciated the networking opportunities the program offered, such as the mentorship program that RRC Polytech developed with female leaders across television and public relations.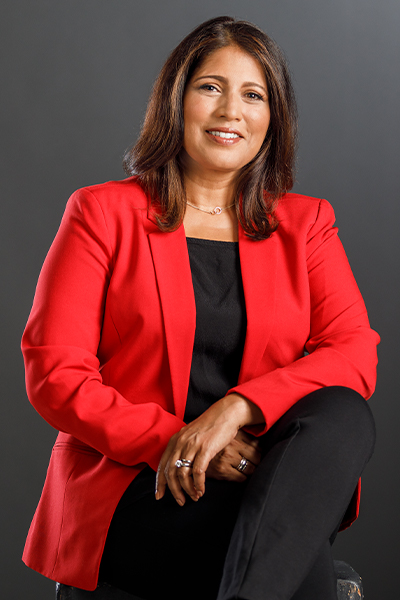 "I got great insight from women who were already working in the field. Opportunities like that give you great perspective into what to expect," she says.
In 2016, Coopsammy left her position at CTV to move to New Brunswick with her two children and husband, who had a job offer on the East Coast. She started looking around at other jobs outside of television that might be a good fit and ended up landing a position with Economic Development Greater Saint John as a communications officer.
Coopsammy says economic development was a natural fit and an easy transition.
"As a reporter, I covered business stories that really grew my appreciation for telling what good businesses can do, how they contribute to our economy and community," she says.
Eventually, the idea of being closer to her family grew more and more appealing. When she returned to Winnipeg in 2019, she did a short stint at CBC Manitoba before learning that Economic Development Winnipeg (EDW) was looking for a corporate creative communications manager.
Coopsammy landed the role in December 2019, and ever since, she's managed EDW's corporate communications activities.
"I remember those moments because everything happened so quickly. My contract [at CBC] ended, and I thought, what am I going to do? Four days later, I had an interview."
Her focus now is executing deliverables based on strategic plans and priorities, and serving as the primary point of contact for media inquiries.
"I do this Investor Insight series for EDW, and it absolutely is what I used to do at CTV," she explains. "I write an intro, then it leads into an interview with someone about what they can share with other businesses."
The stories around economic development change every day, but the larger story of the city's growth is always looking ahead three to five years into the future.
Coopsammy says she's "constantly talking about what's next, what our partners are doing and who's charting a path forward and how."
"At its core, economic development is about creating the right kind of environment that encourages growth and builds a better city for everyone who lives and works in it," she explains.
Coopsammy says she saw Winnipeg through a different lens when she came back from the coast.
"Winnipeggers are resilient, innovative and they don't shy away from the hard work that's needed to find solutions to make things better," she says.
No career is linear, and Coopsammy's is a great example of that.
"You never know where people are going to end up. I was always open for something different — I just never knew it was necessarily going to be economic development, and I'm grateful to be part of it."
Profile by Raegan Hedley (Creative Communications, 2016)
---
RRC Polytech alumni are In Front of What's Ahead. Discover inspiring alumni stories >