2015 Honorary Diploma Recipient – Ace Burpee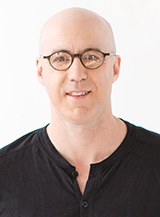 Each year, Red River College awards a Red River College Honorary Diploma to an individual who demonstrates high standards of excellence in their personal and professional achievements, and whose involvement in the community is widely recognized.
Ace Burpee has worked in radio for over a decade in almost every capacity and is currently host of the ever popular Ace Burpee Show on 103.1 Virgin Radio.
In addition to hosting his own show, Ace hosts a nationally aired Top 20 countdown program, writes a column in Metro Winnipeg and hosts Manitoba's top rated cooking show – Great Tastes of Manitoba.
Ace, who very proudly hails from Cooks Creek Manitoba, is also well known for the hundreds of charitable events and causes that he donates his time to every year. He is an in-demand event host, public speaker and event organizer. His initiatives have helped to raise millions of dollars for local and international charities over the last several years.
His reputation in this town is of a man who never sleeps because he's too busy helping others. It would be difficult to name a cause in Winnipeg that has not in some way, been touched by his efforts.
For his commitment to community and making Manitoba a better place, Ace has received many acknowledgments.
Ace is a recipient of the Queen Elizabeth II Diamond Jubilee Medal for his service to our community, he is the recipient of a Hero of Mental Health Award from the Canadian Mental Health Association, he has received a Volunteer Manitoba Award for Outstanding Community Leadership and last year, was recognized as a Manitoba Hero.