2014 Honorary Diploma Recipient – Larry Vickar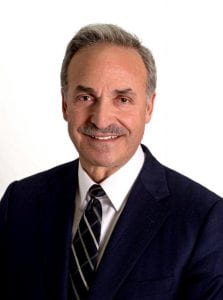 Red River College awards a Red River College Honorary Diploma to an individual who demonstrates high standards of excellence in their personal and professional achievements, and whose involvement in the community is widely recognized.
Larry Vickar has been in the automobile industry for 44 years, serving in numerous capacities and working his way up from office, finance, credit and sales positions to partnership in one dealership.
He now heads up the Vickar Group of Automotive Dealerships, which consists of six operating companies representing four manufacturers – General Motors, Nissan, Mitsubishi and Isuzu – and employs over 300 Winnipeggers.
Vickar attributes the success of his businesses to the collaborative efforts of his staff, who work together to serve their mutual customers with respect and with the attitude that they wish to be the "places" where Customers Send Their Friends. That, as their mission statement reads, says it all!
Having been taught from an early age that sharing one's time and resources was the right thing to do, Vickar has served – and continues to serve – his industry and the local and international general communities. He has previously served as President of the Manitoba Motor Dealers Association and the Transcona Rotary Club, to name a couple.
Vickar has worked at the local, provincial, national and international levels, championing worthwhile initiatives, some of which are focused in areas of great need. Currently, he sits on the Executive of the Jewish Foundation of Manitoba, The Jewish National Fund, St. Boniface Hospital Foundation and the Manitoba Hydro Electric Board.
Vickar and his wife, Tova, have been instrumental in building a village for the poor in the Philippines and a water project in Israel, and more recently, have helped develop and nurture the L'Arche Tova Café in downtown Transcona – a place to showcase the talent of those with developmental disabilities.
For these and other accomplishments, Vickar has been the recipient of numerous awards, including the Laureate – the highest award given by the Canadian Automobile Dealers Association for extraordinary service to the community and industry; the Saul Kanee Distinguished Service Medal from the Jewish Federation; a Queen's Diamond Jubilee Medal; Lieutenant Governor's Community Service Awards from both the Manitoba and Winnipeg Chambers of Commerce; and honours at the Jewish National Fund's Negev Gala and from Winnipeg's Filipino community.
Later this month, Vickar and his family will be recognized at the Rady JCC Sportsman's Dinner. His proudest accomplishment is his family – his wife, Tova, of 43 years; his children Sam and Lisa, and Stephen and Marie (also partners in business), and his two grandchildren.