2012 Honorary Diploma recipient: Stella Blackbird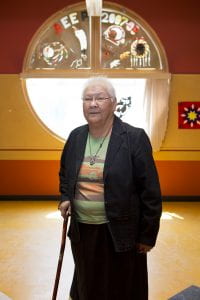 Each year, Red River College awards a Red River College Honorary Diploma to an individual who demonstrates high standards of excellence in their personal and professional achievements, and whose involvement in the community is widely recognized.
Known and respected throughout Canada for her wisdom, gentle spirit and tireless dedication to the community, Stella Blackbird has a special ability to build trust and understanding across cultures and nations.
An Elder and Red Eagle Woman from the Turtle Clan, Stella has served as an Elder, Traditional Healer, Medicine Teacher and facilitator for healing programs and teachings across Canada and the U.S. She has devoted years to the women of Keeseekoowenin First Nation (where she resides), and to women and men in neighbouring First Nations communities, providing counselling and healing and leading traditional ceremonies. Stella also provides teachings at Medicine Eagle Camp, which she helped establish on the sacred ceremonial grounds of the ancestors near Riding Mountain National Park.
Stella has a vast knowledge of traditional medicines, which she shares with those from all nations and backgrounds. Earlier in her career, she served as Resident Elder for the Ontario Native Education Counselor Association in Sudbury, and provided health services for the Ojibway Tribal Family Services Sacred Circle in Kenora. She also served for years in the Third Canada Rangers of the Canadian Armed Forces, providing traditional teachings and survival skills to youth and adults at Camp Borden.
Since 1995, Stella has served as Elder for Urban Circle Training Centre in Winnipeg's North End — one of the most successful Aboriginal training centres in Canada. She provides traditional teachings that transform the lives of students and their families, and has mentored many young leaders to ensure sacred teachings and the traditional way of life are not lost.
In addition to leading the design stage of Urban Circle's new home on Selkirk Avenue, Stella was also a driving force behind the Makoonsag Intergenerational Children's Centre, where neighbourhood families and children can follow traditional teachings on a daily basis. Stella's dream was that children would never again have to feel the shame that she and others experienced in the residential school system, but would instead proudly embrace their identities from the earliest stage of life.
Stella is a loving mother, grandmother and great-grandmother who raised six children with her husband, Dan Blackbird. She has been on her healing journey for the past 35 years and lives the Seven Sacred Laws on a daily basis. We are deeply honoured that she walks among us.
Click here to learn more about Stella's role in the creation of the Makoonsag Intergenerational Children's Centre.