B.Ed Info Session November 20th, 2019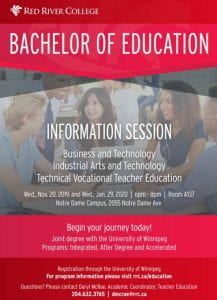 The Teacher Education Department at Red River College is hosting Bachelor of Education Information Sessions for prospective students interested in the Business Technology, Industrial Arts and Technical Vocational Teacher Education programs.
Learn about the five-year Integrated, three-year After Degree and one-year Accelerated degree programs that are delivered jointly with The University of Winnipeg.
Information Session Details
Date: November 20, 2019
Time: 6pm
Location: Room A137, RRC Notre Dame Campus (2055 Notre Dame Ave.)
For more information, call Monique at 204-632-2300.