Holiday Food Drive for Agape Table
My name is Samantha Eveleigh, and I am a third-year nursing student. This year I have spent well over 100 hours working as a volunteer at Agape Table, a local soup kitchen that helps feed breakfast to 350-400 people a day who are experiencing low income or homelessness. Why do I do it? Growing up, my family was considered low income and utilized some resources like Agape Table. I felt it was my time to give back. I wanted to make a difference. While working at Agape Table, I repeatedly noticed that the kitchen was short on food donations. I quickly realized I couldn't do it alone, so I started looking for guidance and support from others. I spoke with one of my nursing instructors, Tracey Fallak, and she along with many other instructors supported me throughout my food drive. In Discipline of Professional Nursing, we learn that we can lead from any chair (Zander & Zander, 2002).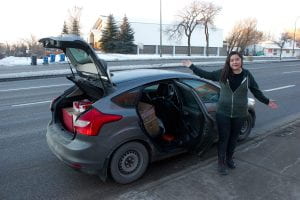 I encouraged other nursing students to volunteer to get them involved in my cause, and there was a lot of interest! A poster was created and displayed on many walls of the Notre Dame campus. Selena Jasper, the Red River College Nursing Student Association president, helped me promote the initiative. My goal was to achieve 350 donations, and with the generosity of nursing students, nursing instructors, friends, and family, we more than doubled it! The food drive for Agape Table resulted in a collection of over 700 non-perishable food items. This will help feed well over 1500 people. When the donation was dropped off, they were so grateful and a lot of hugs were shared with the people at Agape Table. As a result of this event, I hope others will see what a small network of people can achieve and the difference they can make in the lives of others.
One of my instructors passed this on to me, and I thought I'd share it as well:
"Never doubt that a small group of thoughtful, committed citizens can change the world; indeed, it's the only thing that ever has." – Margaret Mead.
Post and photos by Samantha Eveleigh – Student Nurse