RRC Polytech Achieves STARS Silver Rating for Sustainability Achievements
On Earth Day 2023, RRC Polytech is celebrating the achievement of receiving a STARS Silver Rating in recognition of its sustainability achievements from the Association for the Advancement of Sustainability in Higher Education, or AASHE. With more than 900 participants in 40 countries, AASHE's STARS program is the most widely recognized framework in the world for publicly reporting comprehensive information related to a college or university's sustainability performance.
"Sustainability is embedded in the culture at RRC Polytech," says Lynn Zapshala-Kelln, Vice-President, Finance and Administration. "This STARS Silver rating is both a celebration of our collective accomplishments and a benchmark for identifying future opportunities to advance sustainability at RRC Polytech."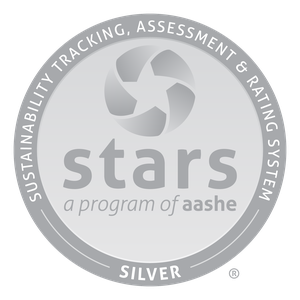 Highlights of RRC Polytech's recent sustainability efforts include the construction of the new Manitou a bi Bii daziigae building, designed to LEED Gold standards, and the coordinated efforts to re-use and donate over 1,900 furniture items and 3.5 tonnes of books and household items during the move of the Language Training Centre from its old location into the new building.
"Sustainability doesn't belong to one department; it's a way for the College to come together around common goals," says Maria Mendes, Director of Environmental Stewardship and Campus Renewal. "This achievement is a testament to RRC Polytech's leadership at all levels when it comes to sustainability efforts in teaching and applied research, outreach and engagement, college operations, and institutional planning and administration."
"STARS was developed by the campus sustainability community to provide high standards for recognizing campus sustainability efforts," said AASHE Executive Director Meghan Fay Zahniser. "RRC Polytech has demonstrated a substantial commitment to sustainability by achieving a STARS Silver Rating and is to be congratulated for their efforts."
The RRC Polytech STARS report is public and can be found online.