Are you an instructor in an academic program that is being highly impacted by COVID-19… and you need some new supports and resources to address your students' learning needs online? 
Are you an instructor in a course that is being offered across academic programs… and you would like supports in different student cohorts?
Are you an instructor with students that despite all their efforts fall behind in their coursework… and you are looking for options that support the students while they do not affect your work time?
Join us at Red River College's RED Forum on Thursday, May 20 at 3:20 p.m.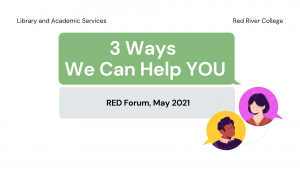 Staff from different units in Library and Academic Services will be presenting a panel session designed to share scenarios that will underscore the intersection of faculty instruction with library and academic services at the program, cohort and individual level.
The panel will share the suite of student supports that we have continued to develop over this past year in an engaging and interactive way, contextualizing the resources and services to situations you may have now, or may encounter in the future. The presentation will incorporate time for a Q&A section at the end of the session.
Please come to the session reflecting on areas where your students' academic needs have changed during this past academic year. It is our intention that you will leave the session with a bank of resources that will help you in your everyday work with your students at the College.
For more information about this panel session, contact Dayna Graham at dagraham@rrc.ca.