New Indigenous Social Innovation Program Supports Student's Entrepreneurial and Spiritual Journey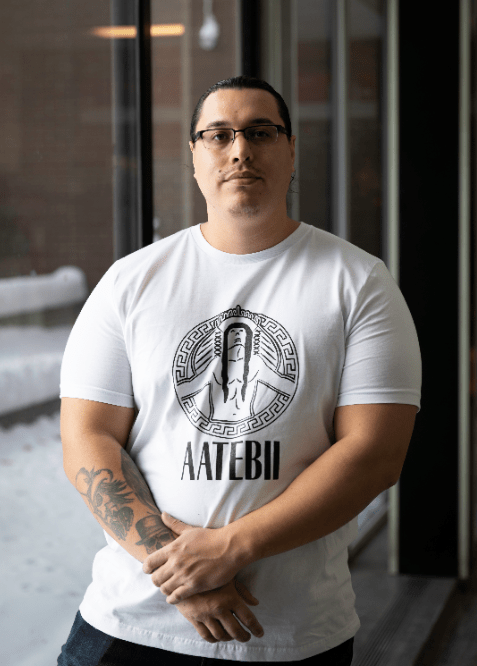 When RRC student Sean Rayland decided to start his sober journey, he wanted to find clothing that supported his new path. Unable to find what he was looking for, Rayland started his own line of apparel featuring empowering messages of community, spirituality and sobriety.
Rayland started his clothing brand Red Rebel Armour a little over a year ago. Without much prior experience, he taught himself graphic design and learned how to screen print t-shirt designs by watching YouTube tutorials.
Rayland enrolled in the Social Innovation and Community Development program at Red River College, which has allowed him to build his brand and business further while obtaining the support of his culture. He says that before coming to Red River College, he was vaguely aware of the Indigenous Student Supports offered, but was unaware of the full breadth that is available. Spending time with the Indigenous Supports has allowed Rayland to stay connected with his culture and spirituality during his schooling, which has been instrumental in his path to recovery.
The Social Innovation and Community Development is a new two-year program that explores community engagement, sustainable development, empowerment, inclusiveness, environmental stewardship, reconciliation and social activism. With a focus on self-reflection and embedded with Indigenous teaching, ceremony and ways of knowing, the program teaches students about themselves, their potential, and their community.
Rayland says that his favourite thing about the program is the strong sense of community that has been built up. He says that RRC is an excellent environment of culture and a safe haven for sobriety. "So far, it's beautiful. It's awesome."
Rayland has made sure that all of the clothing comes from producers that are sustainable for the environment. He says that it's essential to him to treat the environment with care and respect, and that he wants to do his part. He says, "I care about my earth, and I care about humanity."
The various designs on the clothing of Red Rebel Armour have Indigenous words and phrases on them. He says, "You can't have [Indigenous] language without culture, and you can't have culture without language."
Rayland says that it's important for him to incorporate messages of strength and spirituality in his clothing because, "it's the way I think and the way I live. I want my clothes to reflect that."
Rayland says that if he could send one message to those struggling out there, he would tell them that, "every day you wake up, you have a chance to be reborn." He hopes that his clothing and inspiring messages will help those who are in situations similar to where he was.
Rayland currently runs Red Rebel Armour as a full-time job, but with the help of the Social Innovation program, he plans to expand the scope of his business, adding new designs and eventually adding more kinds of products. He hopes that his messages of hope will reach those who need them and inspire others to support those in need.
He would strongly encourage anyone thinking about enrolling in the Social Innovation program to join. He said that with the support and education they provided, he will be able to continue building his brand in the best way possible.
To learn more about the Social Innovation and Community Development program visit rrc.ca/indigenous/socialinnovation