Congratulations to all our 2019 winners; your hard work is always noticed even when you don't think it is!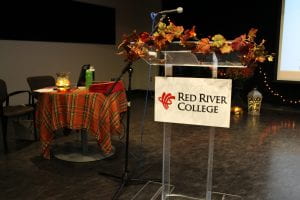 Jean Burrows Scholarship – Emma Collins : Jean Burrows was the Nursing Department Chair from 1974 to 1998, and upon her retirement, this scholarship was created for a first year student recognizing their outstanding academic achievement.
Bernice Parrott Award – Breanne Trach, Hamida Caringal, Demetrio Vasquez, Wilda Cortes, Madeline Gylywoychuk-Winkler, Chantel Verbong, Amanda Pfeffer, Kirsten Hedley-Brown : This award was established to deserving students entering their second or third year in the BN program, to recognize their hard work and efforts.
Nursing Students Endowment Scholarship – Machaela Cavanagh, Rachel Hotson, Chris Hofer, Melissa Nelson : This award was established from students who, in 1997 as part of their tuition fees, contributed to this endowment fund.  In 2001, a portion of the money was dedicated to the creation of this award.  The class of 2002 also made a sizable contribution from their own fundraising efforts.
Nursing Legacy Award – Rachel Litz, Samantha Siedlik, Machaela Cavanagh, Adam Jastrzebski, Emma Collins, Melissa Nelson, Daphne Martin, Taylor Bahniuk, Alisha Rana, Rachel Hotson : This award recognizes outstanding clinical performance of students in years one to three. A student in Nursing Techniques 3 is also recognized for excelling in both their academic and skill performance, while the Health Assessment award recognizes a student who has outstanding academic achievement in both Health Assessment courses.  This award was established by combining sources from the Stanton Family, the Duncan Family, and Phyllis Aaron, along with the Nursing faculty.
Thorey Johnson Nursing Award – Karyn Tiel, Sheena Scholz, Kiersten McMullen : In honor of their mother, Mrs. Johnson's daughters have established this scholarship for a nursing student who has expressed a special interest in rural nursing practice.
Nursing Leadership Award – Lauren Lacroix, Michelle Queau : This award is for deserving students who have gone above and beyond in support and leadership of their peers. This award was established by the awards committee, with nominations from faculty and peers.
Discipline of Professional Nursing Award – Jorien Friesen, Leah Cooper, Chris Hofer : This award is presented to students for their outstanding achievement in the courses of Discipline of Professional Nursing 1-5.
Mary Langhan Nursing Award – Denae Bastian : This award is  presented to a third year student who has demonstrated a high level of skill in the clinical setting and has expressed a special interest in obstetrics and gynecology.
Karla Ferens Memorial Entrance Award for Health Care Aide – Jeanelle Chua, Elizabeth Codville, Samantha Galvin : This award recipient has displayed the same accomplishments exhibited by Karla Ferens: involvement in sports and leadership qualities.  Karla was a 2011 RRC graduate of the HCA program.
Community Service Award – Ryan Penner, Samantha Eveleigh : This award is presented to second and third year students who have volunteered for a community agency while maintaining sound academic achievement.
Karen Wall Indigenous Nursing Student Award – Dana Strong : This award is presented to a third year student of Canadian Indigenous heritage who has achieved academic success in the BN program and has demonstrated leadership within the Indigenous community.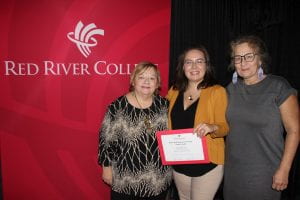 Elizabeth Scaife Memorial Award – Lovepreet Sharma : This award is presented to a BPIEN (Bridging Program for Internationally Educated Nurses) student who demonstrated outstanding academic and clinical performance.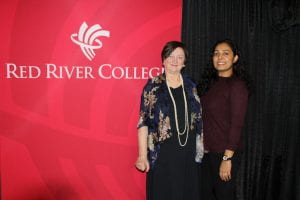 Nursing Student International Education Award – Jason Juell, Lauren Lacroix, Emma Collins, Marlo Periera-Edwards : This award recognizes those who pursue educational opportunities internationally while completing their nursing program.
Written and Photos by Jennifer Johnson – Nursing Lab Manager
With descriptions of awards courtesy of the Nursing Awards Committee and a special thank you  to them for a great luncheon.