Whole Building Airtightness Testing
Increased building durability. Lower operating costs. Enhanced occupant comfort.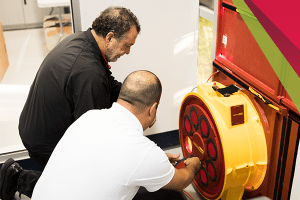 That's the point of whole building air leakage testing. Long recognized as valuable in residential properties, whole building air leakage testing is continuing to be adopted in larger commercial and institutional buildings.
Effects of Air Leakage
Increased energy usage – it is estimated that between 15 and 40 per cent of a building's energy for heating and cooling is due to leakage
Compromised durability – transfer of moisture-laden air into the building envelope can lead to structural issues from rusted metal, wood rot, and mould
Reduced occupant comfort – can result in cold drafts, poor air quality, and unwanted noise transmission.
What can airtightness testing provide?
Quantified results that can be compared to airtightness standards
Concurrent diagnostic testing to identify the severity and location of leaks not apparent through visual assessment
Determine costs/benefits of retrofit strategies
For new construction, a final airtightness test complements assembly testing throughout construction
BETAC Team Experience
For a decade, the BETAC team has been conducting large building airtightness tests, gaining extensive knowledge in testing both occupied and unoccupied buildings. At the cutting edge of the current airtightness testing standard: ASTM E3158-18 Standard Test Method for Measuring the Air Leakage Rate of a Large or Multizone Building. BETAC works closely with building owners, engineering consultants, and the design community to minimize disruptions to building operations during testing. Identifying and sealing the leaks results in savings through lower maintenance costs and a longer lifespan – along with happier occupants.
Projects