Join RRC Polytech for CreativeMornings Winnipeg's free August event
On Friday, August 25, RRC Polytech graduate Barry Karlenzig will be the guest speaker at CreativeMornings Winnipeg's free event taking place at The Cube in Old Market Square. All RRC Polytech alumni and community members are warmly invited to attend.
More than a decade ago, CreativeMornings was launched out of a desire for ongoing, accessible events for creative communities to connect. Today, these communities gather in 223 cities across 67 countries — including right here in Winnipeg.
The Winnipeg chapter of CreativeMornings not only celebrates our city's creative talent, but also promotes an open space to connect with like-minded individuals. From marketing legends to hometown heroes, speakers are selected by each chapter based on a global theme. This month's theme is PRIDE: a celebration of our truest, radiant selves and a defiance against those who expect us to dim our own light. Together, we'll discover how we can fully unfurl ourselves and ask how we can extend safety and solidarity so that we all may be unapologetically ourselves.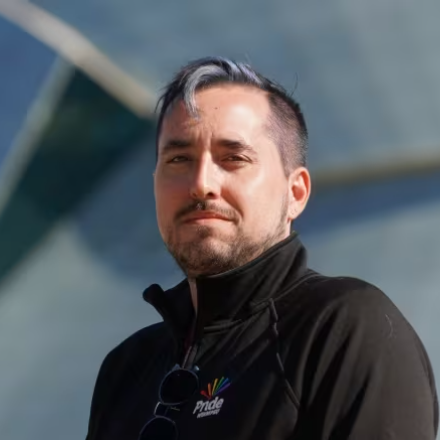 Guest speaker Barry Karlenzig (he/him) graduated from RRC Polytech's Business Administration program in 2008 and works as a Technical Sales Manager for New Flyer. When he isn't busy with his day job, Karlenzig works tirelessly to serve Winnipeg's 2SLGBTQIA+ community as a board member with the Winnipeg Chamber of Commerce, president of the Snowy Owl Monarchist Society, co-chair of the Conference Structure & Integrity Committee with InterPride, and volunteering for more than a decade (and in many capacities) with Pride Winnipeg.
Karlenzig is the current president of Pride Winnipeg and has been in the role since 2019, including during the height of the pandemic when the organization switched to a virtual Pride celebration. He also led the team through hosting the national Fierté Canada Pride festival here in Winnipeg in 2022.
Since 1987, Pride Winnipeg has been celebrating the fights and victories of the 2SLGBTQIA+ community, as well as showcasing reasons to be proud. This year's parade and festival marked record-breaking attendance, with more than 90,000 people taking part in activities between May 26-June 4.
Next Friday, Karlenzig will touch on how he has personally used creativity in his leadership role with Pride Winnipeg. He'll also share his personal journey in the 'why' behind his work.
Not only will you hear Karlenzig's story on the 25th, but you'll also have the chance to network with other brilliant minds from Winnipeg's creative community. As always, CreativeMornings Winnipeg events are free to attend. You won't want to miss it!
Event Details
Date: Friday, August 25, 2023
Time: 8:15 – 10 a.m.
Location: The Cube stage in Old Market Square (275 Bannatyne Avenue in Winnipeg's historic Exchange District)
*Rainy day alternative: RRC Polytech's Patterson Global Foods Institute, located beside The Cube stage
Note that this event is taking place outside, so please bring your own chair and dress for the weather. You're also invited to 'wear your pride' at this event: think about what lights you up and what you are proud of – creatively, culturally, personally, professionally. Wear something that celebrates it!
The motto of CreativeMornings is "everyone is creative, everyone is welcome" – a perfect fit for Friendly Manitoba. Register now to attend Karlenzig's presentation on August 25.
---
CreativeMornings Winnipeg x RRC Polytech
As a proud partner of CreativeMornings Winnipeg, RRC Polytech gets to host Winnipeg's creative community at in-person CreativeMornings events throughout the year. Many RRC Polytech grads have held the stage, including Amanda Buhse, Sean Rayland, Kerri Twigg, Natalie Bell, Ashleigh Lodge, and Jordan Stranger. You can check out their inspiring talks here. Are you interested in speaking at a future CreativeMornings Winnipeg event? Email alumni@rrc.ca expressing your interest and we'll connect you!