Ceiling tiles and memories
It's 2003 and the Design and Construction Technology graduating class have decided it's time to leave their mark at the College. Did they carve their names in a tree? No. Did they sign a wall they weren't supposed to? No. Did they create an elaborate time capsule that had multiple locks and keys? No (thankfully). Instead, this class decided to take a ceiling tile from their classroom in A4-12 and sign their names and attach a class photo to commemorate their hard work and dedication to be found one day in the future.
Fast forward 20 years to 2023 where Design and Construction Technology is now called Architectural/Engineering Technology and the classroom in A4-12 is being demolished to make space for the newly announced Interdisciplinary Health Sciences and Community Services Simulation Centre (SIM Centre).
"I walked up there Monday afternoon to check to see how they were making out, and leaning against the wall was this tile. I saw "2003" and well, that was my graduation year. As I looked closer, sure enough, I had signed the tile and saw a picture of our whole class," said Curtis Jones, Senior Project Manager, Environmental Stewardship & Campus Renewal and 2003 graduate of Design and Construction Technology.
Curtis has been a Senior Project Manager with the College since 2020 and had previously been seconded from the province to be a part of building Manitou a bi Bii daziigae from 2017 – 2019.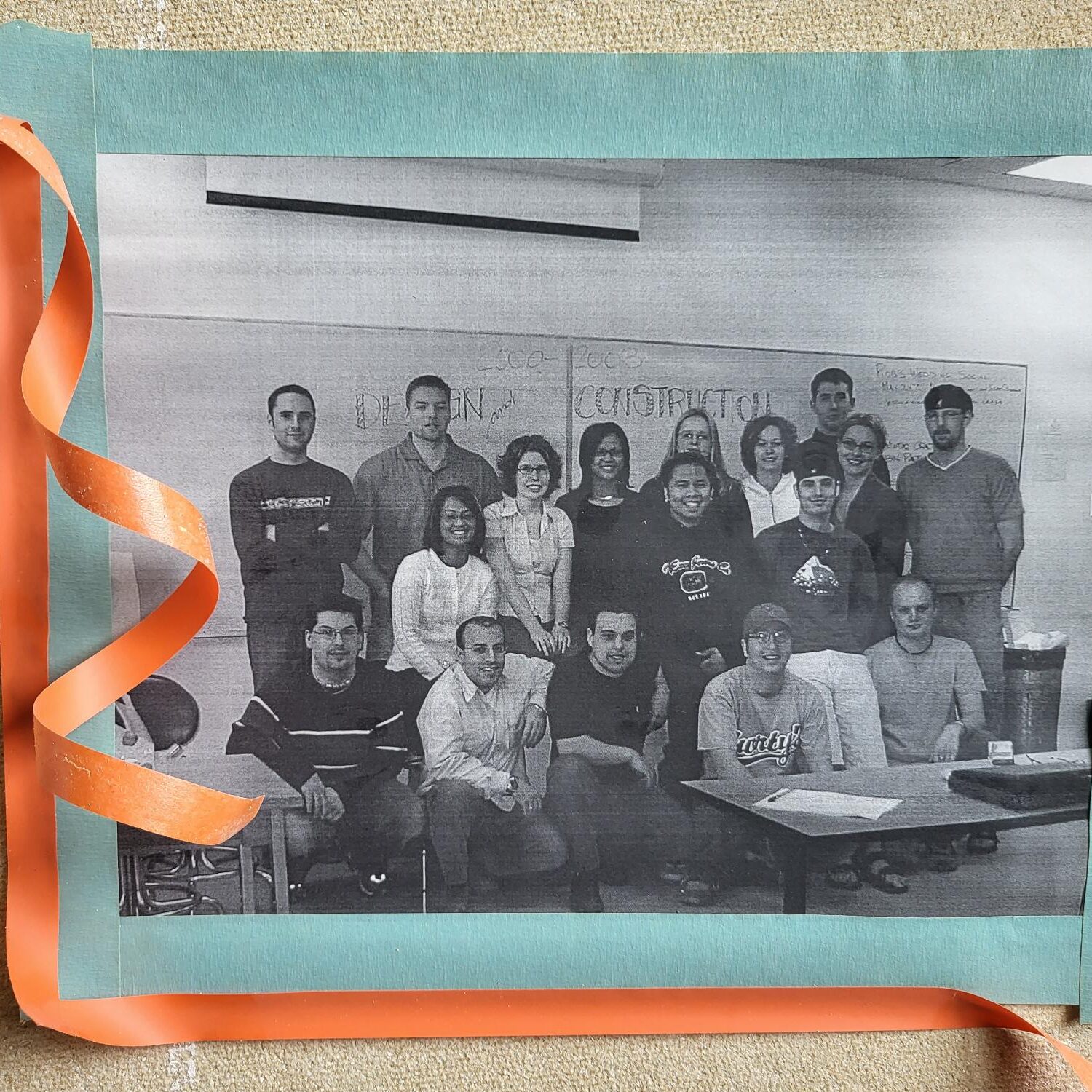 "As soon as I found this, I phoned Shari Bielert (Chair, Construction Management & Architectural Technology), she was one of my instructors and one of the remaining people still here from the program when I was in it," said Curtis. "She came up and we looked through the names and reminisced – I forgot about a lot of them, so it was neat to remember all of these people again."
Curtis said he didn't remember making the sign, but he did remember the picture. "One of my classmates, made us all stand up at the front to take the picture, but I don't have any recollection of signing the tile, so I was definitely surprised when I walked up to find it," he shared. They made sure to put the ceiling tile back for someone else to find, Curtis noted.
"It's kind of bittersweet that I'm tearing down my old stomping ground, but the SIM Centre is a really exciting project for the College and for me," added Curtis. "I know how important this project is for the College and everybody in the province. I'm keen on delivering it on time and on budget," he said with a smile.
"I take so much pride in the work that I do at the College and it's because of all of the fond memories I have of being here as a student. It doesn't seem like it's 20 years ago, I still think of myself as being in my early 20s and I'm not, clearly," Curtis said, while chuckling. "But I had a lot of good times here, so it's neat to be a part of these projects and come full circle."
Curtis and the project team are planning on leaving their own mark on the SIM Centre for someone to find one day. "I'm not sure what, but I hope this time I don't find it in 20 years. I hope I'm retired by then," he added with a grin.