Dishing up success in Manitoba's Interlake
Anyone who has been to Fisher River Cree Nation knows Loretta Lynn's dishes up the best slice of homemade pineapple cheesecake in Manitoba's Interlake.
Culinary Arts graduate Loretta Lynn Cochrane was born and raised in Fisher River (Koostatak, MB), located approximately 193 kilometers north of Winnipeg. Her namesake restaurant in the community is celebrating 28 years in business in 2023.
"We are best known in the area for our homemade pineapple and strawberry cheesecakes and pies: strawberry-rhubarb, lemon, cream pies, and strawberry shortcake," said Cochrane, who earned certificates in Commercial Cooking at Red River College Polytechnic in 1987 and 1988. "We pick the rhubarb locally, as well as berries like saskatoons for our pies," she added.
Everything on the menu at Loretta Lynn's Restaurant and Catering is homemade. From burgers and fries to fresh-baked bread and garlic toast, to a rotating selection of Soups of the Day, including cream of chicken, cream of mushroom, borscht, beef barley, and cream of potato.
"Another specialty, I would say, is our liver and onions. I get a lot of requests for that dish," said Cochrane, on the phone from her restaurant kitchen. "The community and surrounding areas have always supported Loretta Lynn's; we serve a need. I have to say, I feel like people appreciate the business being in the community."
Cochrane switched to take-out orders only at the start of the pandemic, staying open for business but closing her dining room that seats about 28 guests. She has yet to re-open it. Aside from her bustling take-out business, she also provides catering services in Fisher River and communities across the Interlake.
"I'm hoping to have more staff soon, but it seems to be hard right now. You train new people, and they tend to leave. I usually have four to six staff on hand," she said. "We're a small establishment. I need one answering the phone and taking care of the customers, with three in the back, and sometimes more depending on what we're doing."
"Mind you, I have a lady who has been with me for 24 years, my server Janice Mowat. That's pretty remarkable for being in the restaurant field because there's such a high turnover."
Cochrane also gets a lot of help from her husband and adult son. "Like me, he grew up in the restaurant business," she said.
Her mother was in the cooking and catering field and taught home economics at the Fisher River school. "I grew up around cooking, but I didn't realize until later that I was going to do it as my livelihood."
RRC Polytech a hands-on experience
Cochrane's first kitchen job was at the personal care home in Fisher River, newly built at the time.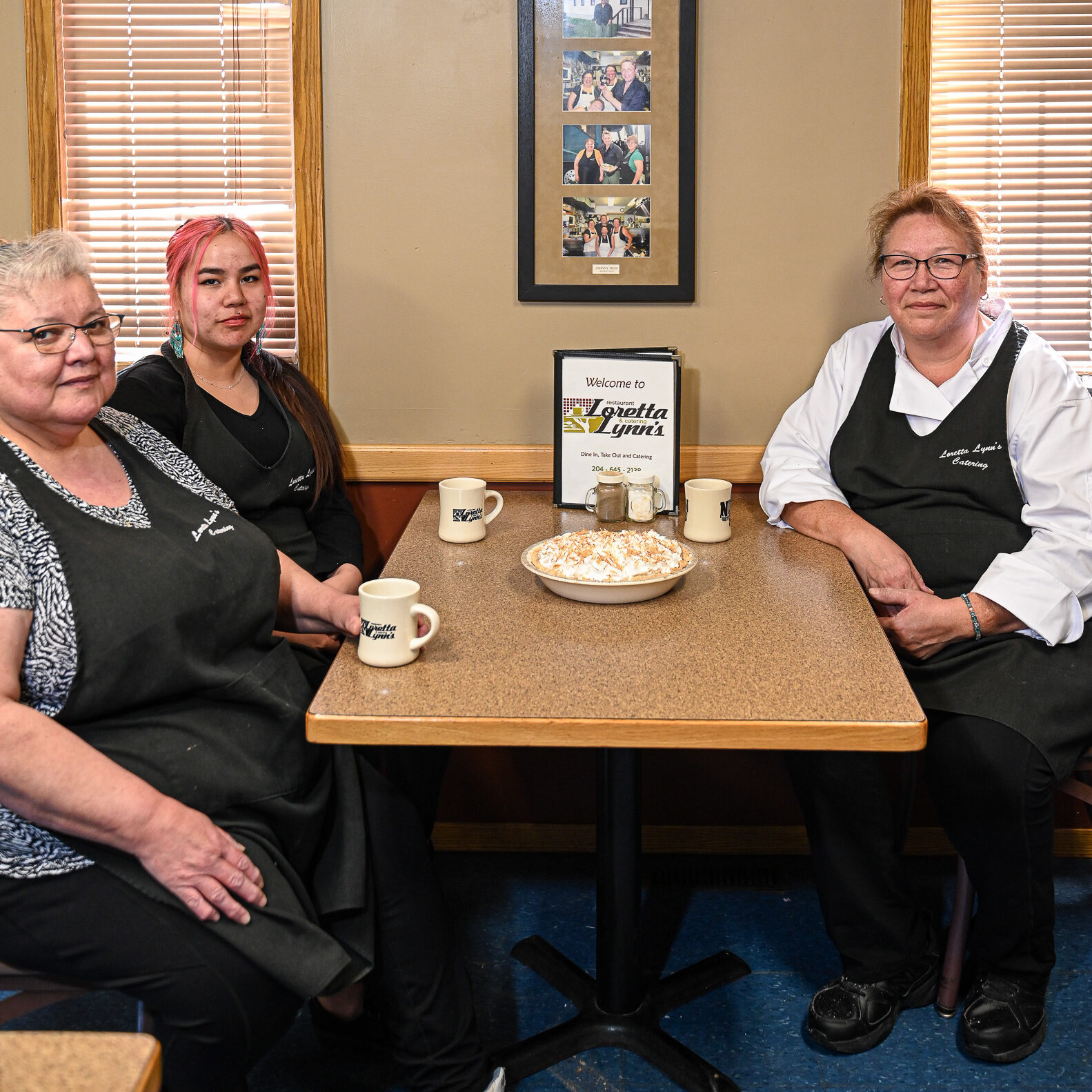 "I thought, 'I could do this but in a different atmosphere,' I guess you would call it," she recalled. "I loved my elders, but I wanted to try a different way of cooking, to jazz things up. I like trying new things, but sometimes people are timid to try eating something new," she said, laughing.
"I wanted to see the world outside of Fisher River, and I thought, 'What a great way to travel – through the love of food.' To visit and work in different places, find out what kinds of foods are out there, and be right in the middle of a large kitchen. My dad always told me, experience is something you can always bring back home with you," she said.
Cochrane quickly took to life at RRC Polytech in the late '80s. "I had tried university and found it was not for me. Being a hands-on person, I just could not see myself sitting there. I liked that Red River was a hands-on setting. I remember the instructors recognized that I had a talent for helping and guiding my classmates," she said. They would joke about leaving her in charge of a class for the day.
When it was time for her first work placement, she requested a large hotel in the city. "I wanted to see how they were run. I got a placement at the Westin Hotel at Portage and Main; I wanted to experience that kind of kitchen," she said.
After that, Cochrane was allowed to go overseas for the first time, on her second work placement. "I went to Lyme Regis, a town in West Dorset, England, to learn about baking."
Go north, young woman!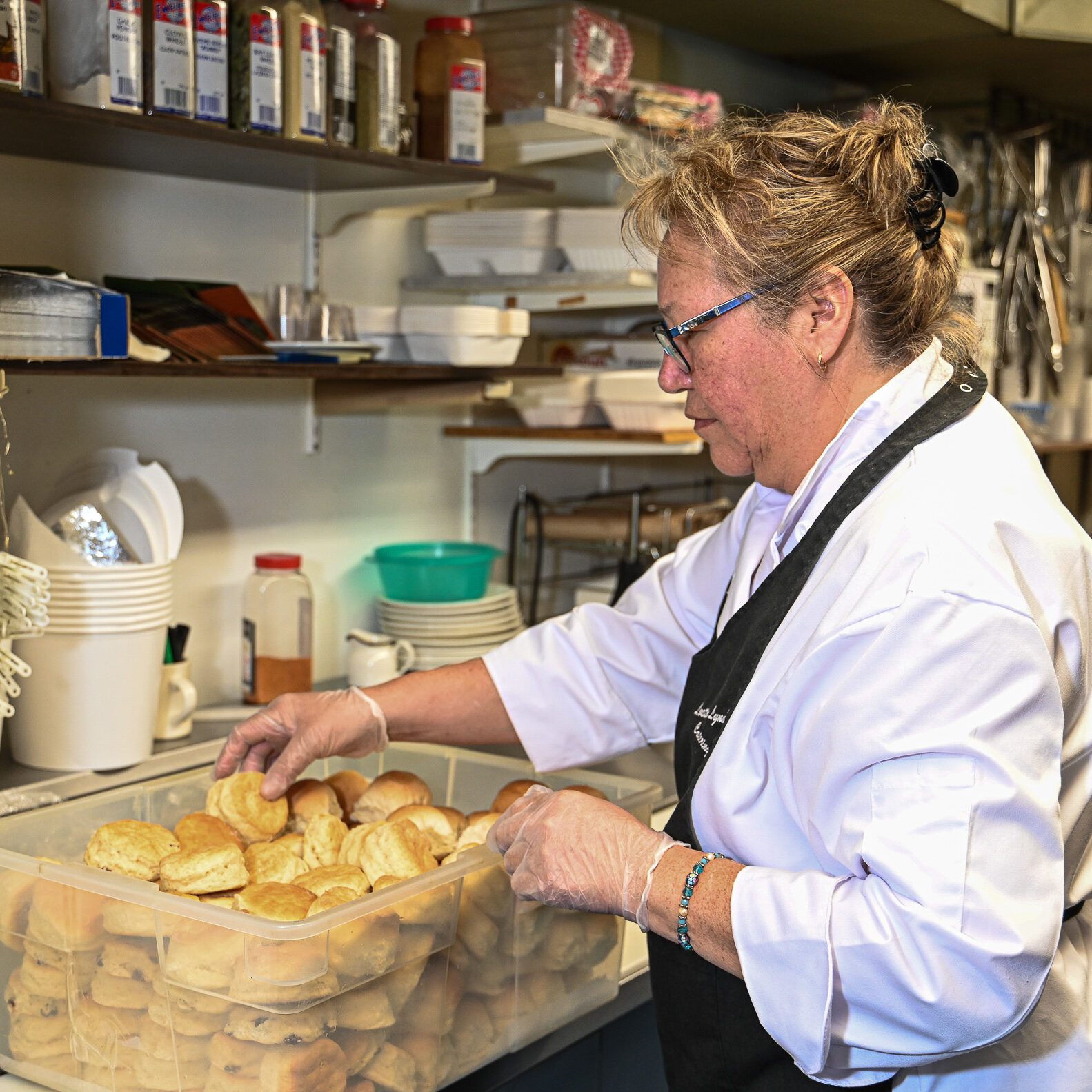 With her RRC Polytech certificate fresh in hand, Cochrane persuaded the director of Rankin Inlet's Arctic Meeting Place, in what is now Nunavut, to take her on. "She didn't think I would be able to make it at such a young age, but I proved her wrong and worked in the kitchen there for two years," she recalled.
Cochrane was next invited to run the kitchen at Nunavut Arctic College in Rankin Inlet, for what was the Keewatin Region at the time (now the Kivalliq Region), cooking daily meals for students billeted there.
Before returning home to Fisher River, Cochrane worked in the kitchens at resorts and seasonal lodges: Thunderbird Lodge at Wrong Lake in Manitoba, Plummer's Great Bear Lake Lodge in the Northwest Territories, Kananaskis Lodge in Alberta, Knee Lake Resort in Manitoba, and Minaki Lodge in Ontario (which later burned to the ground in October 2003) among them.
"I was working at a lodge when the opportunity came up and this building in Fisher River was for sale in 1995. I thought, 'I do well for other people, why can't I do this for myself?'" she said.
To anyone considering a career in Manitoba's growing culinary industry, Cochrane would say it is a great opportunity. "Only be cautious, because it's not a job where you sit around," she said, erupting in laughter. "It is quite demanding! When you are running a restaurant, it's a lot of go, go, go. You're on your feet for up to 12 hours a day."
As for the woman from Fisher River Cree Nation herself, she wonders what the future will hold for her.
"I haven't yet decided what my next steps will be, but I know I'm not yet ready for retirement. Maybe I'll specialize in something at a smaller scale, something like that," she said.
"The future looks good from up here."
Profile by Nigel Moore (Creative Communications, 1998).