"Emerging Leader" credits Creative Communications experience for kick-starting a career in law
For many people, career changes can be drastic – a sharp turn into the unknown. For Red River College Polytechnic alum Michael Badejo, though, moving from a career in communications to one in law has felt less like a swerve, and more like a straight line of experience.
"In the world of law, especially if you're going to be a litigator, how you marshal the facts and create a narrative is central to your arguments and finding effective answers," says Badejo, a graduate of the Creative Communications joint degree/diploma program who earned his J.D. from the University of Manitoba (UM) this past spring.
"Doing that effectively is based on getting the message across."
Communicating a message is a central lesson of the Creative Communications program, but it's not the only through line for Badejo's change in career. The other is his personal commitment to the communities in which he's learning and working.
In June, Badejo was named a recipient of the UM's Emerging Leader Award, which recognizes "students who support the university's educational mission by contributing to the social, cultural or economic well-being of communities on or off campus; encourage cross-cultural understanding, and demonstrate sustained leadership and initiative worthy of recognition."
One of three recipients in the Faculty of Law, the award came after Badejo served as President of the Manitoba Law Students' Association (MLSA) through a pandemic, working to rebuild student connections that were frayed due to distance learning and the lack of in-person camaraderie so central to the university experience.
Badejo was nominated for the Emerging Leader Award by a past president of MLSA, as well as a senior faculty member.
As MLSA President, highlights for Badejo included reinventing professional development events for the new normal, as well as signing a memorandum with the Faculty of Law to renovate student spaces. This included a first-of-its-kind agreement to build a gender-inclusive washroom in Robson Hall.
"I've always been a big believer in giving back," says Badejo. "Even while I was studying at the College, our year-end project in my second year was based around working with and supporting [the Red River College Polytechnic Students' Association]."
"So, at the university, joining MLSA was just an extension of wanting to give back to the community. I felt I had to the skillset in being able to create effective messaging that resonates and would help the rest of our community toward making our experience better and more welcoming for everybody."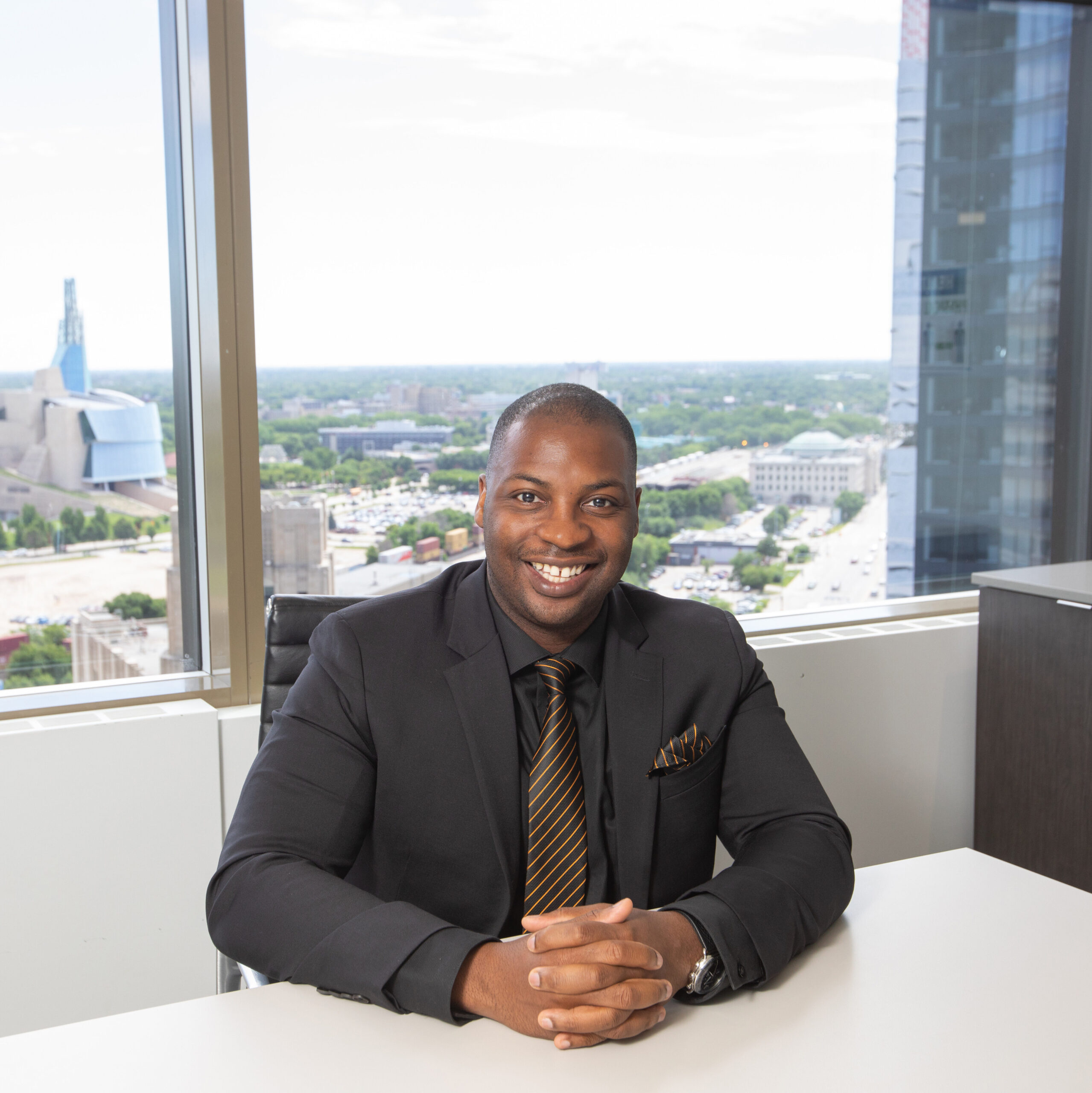 Today, Badejo is working as an articling student at Filmore Riley LLP, but his career path included many steps on the corporate communications ladder before heading into law school. Shortly after graduating from Creative Communications in 2012, Badejo worked at CPA Manitoba in business development, helping guide the non-profit through an exciting time.
"I had a lot of fun there," Badejo acknowledges. "I got to flex some of my creative skills because a new brand was being launched and it involved a merger of three companies."
After a few years, Badejo moved into a media relations and strategic communications role at the Winnipeg Airports Authority. Eventually, he felt the time was right to pursue his lifelong dream.
"I had always thought about being a lawyer since high school and felt like I would be better served by getting hands-on skills and applying them through work, then translating that into my legal career."
So much of communications is about understanding your audience and writing, filming, or recording messages that break through. As Badejo started out in law school, a lot of the skills he had already built were applicable in this new setting.
"The investigative skills, some of the narrative skills that you build up – it was important."
"In law school and now as an articling student, a lot of that still comes into play. As I'm learning the legal trade and honing my craft, there's a lot of research that's still being done. I'm crafting memos and doing research projects for senior lawyers, so it's about taking the law and not just summarizing it – you're analyzing and translating the key messages of each legal decision."
His Creative Communications experience wasn't just about the grind of deadlines and building skills, though. One message Badejo has for future students in the program is to make sure they're building their own community – because it's likely to stick with you after graduation.
"The people you meet in Creative Communications are going to be your best friends, people you rely on and people you work with in the future. It's so important to create and nurture those connections, not only because of the professional benefit, but because it's a boon to you personally."
Looking back at his own experience as a public relations major, where many of the projects included practical applications – even a few collaborations with local employers – Badejo has no doubt that it put him on the right path for his current career.
"RRC Polytech really gave me the footing that I needed to hit the ground running with my legal career," says Badejo.
"The habits and mentality that I learned through Creative Communications provided a real edge in law school and my career. It's the practical aspects, the deadlines, the fact that you're doing real projects with real businesses – it's all central to taking on a fast-paced, demanding environment like law school."
Profile by John Gaudes (Creative Communications, 2012)
---
Learn more about RRC Polytech's Creative Communications program >