CreComm grad 'living the dream' as owner of social media and side-hustle startups
Charmaine Jennings will be the first to admit she has her hands full running two small businesses. But the 2013 Red River College Polytechnic grad is living a dream she made her own, and she wouldn't have it any other way.
In addition to owning Strategic Charm Boutique, a small marketing and public relations agency, Jennings is the founder and CEO of Hustle + Charm, a community of women in business across Winnipeg and surrounding areas.
She is a busy woman, so it's no surprise she talks a mile a minute when you get her on the phone. Jennings founded Strategic Charm Boutique on her own in 2016. There, she and a staff of four women (all hired in the last year, also with Hustle + Charm) help entrepreneurs and small businesses grow their online presence by providing savvy social media and strategy content.
"We have 15 to 20 of those types of clients each month," says Jennings. "I also have clients who are part of a larger company or community that invite me to do a workshop on social media marketing." Including those, the boutique agency often has around 25 clients in total.
Instagram is her jam, as Jennings likes to say about the popular photo and video-sharing platform. "With most of our entrepreneurs, usually Instagram is their choice for their target audience. Instagram is quickly turning into an all-encompassing platform, so people need to know how to utilize all aspects of it. That's where we provide the most help," she explains. Calling it a powerhouse platform, Jennings said it is only getting stronger, in her view.
At Strategic Charm, Jennings occasionally fields the "make it go viral" request that is somewhat dreaded in her field. "A lot of people want viral content, or they want to increase traffic to their website significantly, overnight, or they need to sell a certain amount of product by the end of the week. We always tell our clients we don't have the capability to promise that something will go viral. We try to set realistic expectations," Jennings says.
Before opening Strategic Charm, Jennings earned her communications degree through a joint program between RRC Polytech's Creative Communications program and the University of Winnipeg, majoring in public relations.
Before she entered CreComm, as the program is commonly known, digital and social media marketing was still a newer concept for businesses. Jennings herself had only a Facebook account at the time. "The more I got to experience social media in CreComm, the more I wanted to specialize in it, as opposed to more traditional marketing," she says. "Using social media in school got me more interested in using it professionally."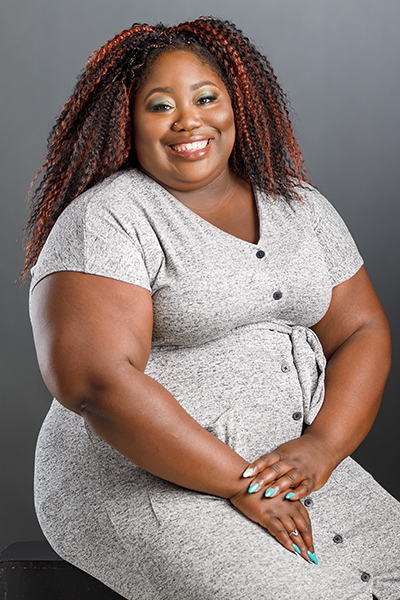 "The thing I really liked about CreComm was there were a lot of different components — we learned public relations, advertising, media production and journalism. Even though I specialized in public relations, it was nice being able to go through the program and radio, television, and all these other things. It taught me that marketing is not linear; it's not one path, one direction, one skill set. There are so many things that are encompassed within the industry, and CreComm was very well-rounded in giving me the extra tools that I needed."
Jennings liked the "all in this together" feeling among her classmates in the program. "I formed some of my closest connections at Red River," she says. "I met my best friend in CreComm, as a matter of fact."
She launched her next initiative in 2017, only a year after founding Strategic Charm. Called Hustle + Charm, the network is described by Jennings as a sisterhood of like-minded women in Winnipeg who run blogs, podcasts, small businesses like her own, or any other side hustles.
While starting her boutique agency, first in Calgary and then after moving back to Winnipeg, Jennings found herself going to a lot of networking events to connect with other women in business. But the vibe always left her cold.
"Everything felt overly corporate and stuffy, and while I don't mind wearing a blazer, I didn't want to have to be that person all the time. This was why I felt the need to start my own community with a more relaxed entrepreneur vibe. Not only did I want it to represent my business, but also me as a person. I needed a space to be relaxed, but still talk business and build connections."
After paying for a monthly or annual subscription, members in the group have come together regularly for collaboration opportunities, workshops and overall support in life and business. Sometimes the women talk shop, other times meeting at a restaurant or coffee shop for a more social experience.
Hustle + Charm now counts 50 members, all of them women from different backgrounds. "We have realtors, makeup artists, web designers, photographers, and so on," says Jennings. "It took me time to grow the group in the beginning because it was so new. There needed to be some trust built among the female entrepreneur community in the city. Once we had seven members who came out consistently, that felt like a win to me already."
Up to six in-person gatherings per month were the norm before the pandemic. "We did workshops, and a lot of fun stuff like we went to play laser tag, went out for dinner, and had pyjama parties. We still try to meet virtually, just not as often now," she said. A private Facebook group page serves as the community's online hub for information and updates.
"As I got older, I always had a feeling that working with women would be the core of my business," Jennings says. "Focusing on female entrepreneurs is a reflection of myself."
Profile by Nigel Moore (Creative Communications, 1998)
---
RRC Polytech alumni are In Front of What's Ahead. Discover inspiring alumni stories >