Community Development grad cultivates supports, welcoming space for new immigrants
Raymond Ngarboui has a good reason for being late to a scheduled appointment at the Rainbow Community Garden on a recent August afternoon.
Within sight of IG Field at the University of Manitoba, the Garden is a place where families new to Canada are able to plant, tend, and harvest their own crops.
Among those waiting for Ngarboui is a group of students from Gordon Bell High School who have summer jobs on the Green Team, an employment program he manages in his capacity as a Community Development Coordinator for the Community Education Development Association (CEDA).
Not surprisingly, all eyes are on Ngarboui as he pulls up. With his easygoing manner, he has the full attention of the students. After speaking with them, he has time to sit down and talk about his career in community development.
"I was here (at the Garden) when I got a call from the Downtown Access Clinic," Ngarboui explains. "A single mother had just delivered (her baby) and was in serious need of food. I spoke with her, got her address, rushed to put together a food box, and rushed to her home to deliver it. That's why I was a few minutes late."
Connecting people and resources through Winnipeg's social services infrastructure is all in a day's work for Ngarboui, a 2008 graduate of RRC Polytech's Community Development/Community Economic Development program.
"I try to bring together different groups to spark positive results," he says. "Like a catalyst in a chemical reaction."
His self-assessment as a community builder has deep roots. A native of Chad, Ngarboui fled the Central African country in 2005 amid a civil war.
"I went through a lot with my family. I survived. We were among a huge population of refugees in (neighbouring country) Cameroon who would help each other. So, I was already seeing community. And I had a vision to give more back."
With some skills and knowledge in farming, he came to Canada. Like many newcomers, Ngarboui spoke no English. Through the immigration process, he was given a choice of cities: Edmonton, Quebec City, or Winnipeg. A different fluent French speaker (as Ngarboui is) might have found Quebec's "la vieille capitale" an appealing prospect. Ngarboui had other ideas.
"I was eager to learn English. And I was told Winnipeg was the coldest of the three options. I said, 'Okay, that's another good challenge.'"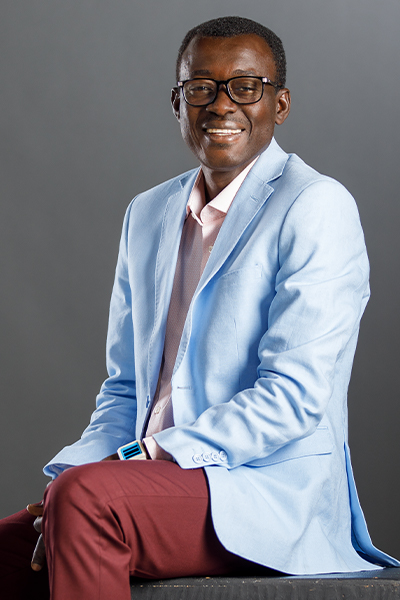 Enrolling at RRC Polytech's Language Training Centre, Ngarboui proved a quick study. After completing a post-secondary prep course, he discovered the two-year Community Development/Community Economic Development program. He knew it was right for him.
"RRC Polytech wants you to succeed. I got plenty of hands-on training and practical knowledge in the program. As students, you learn from each other. I found the easy access to instructors and the small number of students to be helpful.
"I was ready to build my skills. I volunteered in the (downtown Winnipeg's) Central Park area. I was seeing the community help itself. I considered myself a Winnipegger."
In the second year of the RRC Polytech program, a course on board management inspired Ngarboui to apply for a position on the board of directors for CEDA. He got the job, and so began his career with a group of passionate, active community members working to build a more inclusive society.
After landing a position at Hugh John Macdonald School overseeing CEDA's Pathways Student Post-secondary Project, he moved over to Gordon Bell High School. It's a role in which he's a liaison between students, families, teachers, administrators, and other external community agencies.
"I try to find funding and bring in resources to help students with skills training, health, and housing, along with academics."
Food security is another challenge for many students, Ngarboui says.
"Some students come to school with an empty stomach. After their families pay the rent, there's not much left for food."
Issues around food security are close to Ngarboui's heart. As a member of Knox United Church, he was instrumental in the founding of the Rainbow Community Garden just three years after he arrived in Canada.
Since 2008, the project has grown from one site to eight, including two locations in rural Manitoba. Nearly 350 families now have their own plots on which to grow crops from their native countries, along with Canadian staples such as potatoes, onions, tomatoes, garlic, and corn.
"When I arrived, I was having difficulty finding the foods I was familiar with. Knox United Church was very supportive. They gave me a half-acre and said, 'See what you can do.' I had good success with sorghum (an ancient cereal grain native to Africa)."
Families with plots at the Garden keep the produce for themselves, with any surplus going to the Central Market for Global Families, an African-style mixed market in the Central Park neighbourhood.
"Many families see their grocery bills go way down, as much as 80%," Ngarboui says.
His commitment to newcomer families hasn't gone without notice. In 2017, he was named a recipient of the Premier's Volunteer Service Award, and in 2019, he was one of 30 local personalities showcased in the Manitoba Museum's Winnipeg Gallery, where his portrait hangs alongside those of fellow trailblazers such as Louis Riel and former Sen. Murray Sinclair.
Ngarboui remains grateful for the people and the organizations who've helped him find his footing in Winnipeg. He continues to connect with RRC Polytech and has taken in Community Development students for work placements.
"They benefit and I get to keep learning," he says. "I'm still updating my skills."
While he's levelling up his skills, Ngarboui is also making plans to build more capacity at the Rainbow Community Garden. The construction of another 150 raised garden beds will help feed at least 50 more families, and will provide increased access for seniors or those with limited flexibility to look after their crops.
And when it comes to the challenges that inevitably arrive, whether in the form of a pandemic or a lack of rain, Ngarboui says he's quick to correct course if an approach isn't working.
"There's an African proverb: when the rhythm of the dance changes, the dancer changes with it."
Profile by Randy Matthes (Creative Communications, 1993)
---
RRC Polytech alumni are In Front of What's Ahead. Discover inspiring alumni stories >