Business Administration grad takes North Forge to the next level as CEO
It's an all-female executive team at North Forge Technology Exchange — a fortuitous coincidence at first, but one that now impacts every aspect of operations.
Same with the mandatory code of conduct — ensuring every person who walks through the organization's doors is treated with respect — and efforts to maintain an equal ratio of female to male founders in its advanced manufacturing lab and at the Innovation Hub.
And it's all the doing of Joelle Foster, who moved into her role as the organization's Chief Executive Officer in February 2020. Since then, North Forge has seen a 294 per cent increase in the number of companies they're working with. The growth would be impressive at any time, but even more so during a global pandemic.
Foster has also developed a four-stage digital Founders Program, an advanced manufacturing program called AMLab™ and an Angel Network, and will be rolling out a Women in Innovation Lab called WiLab™. Outside of North Forge, she's also the co-founder and general partner of the Women's Equity Lab (WEL) Manitoba.
"The tech and advanced manufacturing industries have typically been male-dominated," says Foster, a graduate of multiple Red River College Polytechnic programs and courses. "I want to make sure that I make an impact, that I can start to change the perception around incubators and accelerators.
"I want a woman to be able to walk into our space at any point and feel welcome, like they belong, and never to feel like it's all for men and they're not worthy or respected."
At North Forge, the success of Foster's mandate can be seen in the current roster of entrepreneurs, including a female founder who created a pleasure device in the organization's fabrication lab, a Saskatchewan woman developing a platform geared toward Black business owners, and a duo who designed an innovative cart for new mothers.
"We have a lot of women from across Canada approaching us because of our all-female team," says Foster. "There are a lot of women with ideas and inventions. Our doors are always open to everybody."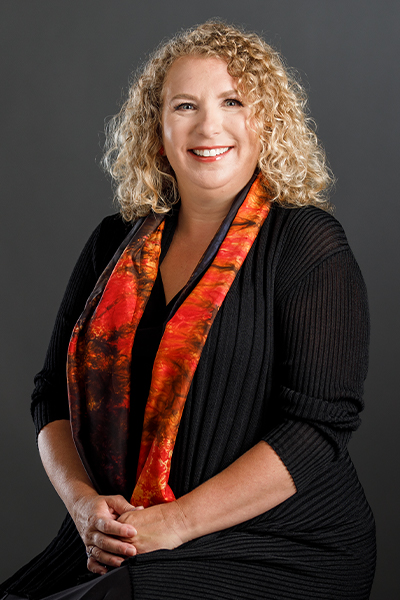 Foster is no stranger to ideas and inventions. She has worked closely with entrepreneurs for more than two decades, and was the sole female founding board member of North Forge in 2015. She spent eight years as a Director for Futurpreneur Canada, where she helped 325 Manitoban businesses open their doors, including Skip the Dishes, Go Oil and Callia Flowers.
More recently, Foster worked as the inaugural Executive Director for the University of Calgary's Hunter Hub for Entrepreneurial Thinking. The role allowed her to visit entrepreneurship centres around the world, including Portugal, Finland, Germany, the UK, and MITT in Boston. She discovered best practices for running successful incubators and brought what she learned back to Manitoba.
"Every country has something unique that they can share, and different perspectives. I want to expose our members and founders to a huge diversity of thought. I think that's really important," she says.
Foster studied Business Administration (Advanced) and Microcomputer Applications through RRC Polytech's School of Continuing Education in the mid-1990s, programs she says were incredibly valuable in helping her get where she is today.
She now sits on two committees with RRC Polytech and works with current students and graduates through many of North Forge's programs. She's continually impressed with the innovation and progression on display over the years.
"Since I've graduated, the College has grown substantially," says Foster. "They're offering a lot of programming that I wish had been available when I was there.
"(The College) is becoming a leader. I'm proud of the work that they're doing, and I'm really proud to be a Red River College Polytechnic grad."
Looking ahead, Foster has plans to continue growing North Forge's offerings and breaking barriers for women in tech and advanced manufacturing.
"I'm in my dream job," she says. "I want to keep building North Forge, and I want it to be nationally recognized. I want to put Manitoba on the map as far as innovation goes. We have so many interesting startups that value Manitoba. And I think we're going to see more of that."
Profile by Riley Chervinski (Creative Communications, 2016)
---
RRC Polytech alumni are In Front of What's Ahead. Discover inspiring alumni stories >