Railway Conductor
Gain the skills to be work-ready and succeed as a Railway Conductor in just 12 weeks.
Get on the fast track to a career that offers opportunities beyond expectations. Perform the functions of a Railway Conductor, including shop track brake tests on locomotives, applying hand brakes on stationary and moving equipment, switching cars from one track to another, sequencing cars, and other routine activities, all under the constant supervision of three industry experienced instructors. Field training takes place in an active rail yard with several rail cars, tracks, and a locomotive.
This pre-employment, full-time program blends classroom instruction with hands-on experience to make safety a life standard. The program has been designed and developed in cooperation with Canadian railway companies. Get on board for a successful railway career in just 12 weeks.
Information Sessions
Attend an information session to find out more about the program and a career in railway and to ask our instructor any questions you may have.
No information sessions are currently being offered.

Past Information Sessions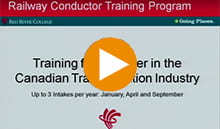 Hear instructors speak about the program, a career in railway, and other benefits: RRC Polytech Railway Conductor Program Information Session Video.
Skip to the 00:08:05 mark of the video to begin.
Program Information
Start dates and tuition information ›
Connect With Us
Speak with one of our knowledgeable staff members to get answers to all of your railway and Railway Conductor program questions.
Apply
Ready to apply to the Railway Conductor program and start on your journey to a rewarding railway career?
Jump into the workforce sooner and grow your career with this full-time Fast-Track program from Red River College Polytechnic.
Learn moreApply Now