Back to school: Former teacher skips retirement in favour of new career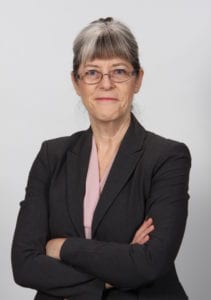 After a successful career as a teacher, Willa Klyne decided it was time to go back to school.
Last June, Klyne, 55, wrapped up 29 years of teaching in Frontier School Division. Not really the retiring type, she enrolled in Red River College's Administrative Assistant program, completing the 17-week certificate program in December.
"I want to work for a very long time. My mom worked part-time until she was 75 years old and I see myself doing the same thing," Klyne says.
"I'd like to have two or three careers in my lifetime. My plan is to work full-time until I'm 65 and then I'll decide if I want to continue … or go down to part-time. But I don't want my working career to be one thing. I can't imagine sticking with one type of job for my entire lifetime. There are new things to learn and new experiences to have."
Klyne admits she was a bit nervous about attending college at 55, but she's not the first in her family to go back to school later in life. In the 1970s, Klyne's grandmother, Violet McKillop, took a commercial cake decorating course at RRC while in her 70s.
"I would never let it stop me (being an older student), but I wondered how it would be. It turned out to be great. There were way more older students there than I thought there would be," Klyne says.
In addition to her grandmother, Klyne says she also drew inspiration from her classmates at RRC.
"The program was very intense, extremely busy. I really admired the single mothers in the classroom. I just can't imagine how they did it, or any mother of young children," says Klyne, who has two sons, Thor and Harlan, both in their 20s.
Thor recently completed RRC's Introduction to Aircraft Maintenance Engineer pre-employment program and hopes to enter the diploma portion of the program soon.
"It was easier for me because all I had to do was say, 'Alright guys, I'm unavailable. I'm not doing any housework, I'm just studying right now.' I was able to do that, whereas some of the other women in the classroom had more responsibilities, so I think I had it easy in some ways."
Along with her hardworking colleagues, Klyne says she was very impressed with the quality of the Administrative Assistant program, as well as the quality of the instructors.
"I am a teacher so I know a good teacher when I see one," she says.
Part of the program is a three-week practicum. For her work experience, Klyne was placed at Manitoba Hydro, where her tasks included communicating between people and departments, mail duties, typing reports, collecting data, arranging meetings, managing vacation days, working with expense accounts, and using office equipment.
"The lady I worked under was super good about giving me the broadest opportunities — as many different things as she could. She really went above and beyond to see that I got exposed to a lot," says Klyne.
Currently in the process of applying for jobs, Klyne is confident her experience at RRC has prepared her for the workplace. Also, she says a lot of what she learned in the program would have helped her in her previous career.
"If I had known some of these things as a teacher and principal I would have used them, like the customer service portion," she says. "Also, the software stuff — that would have saved me so much time!"
Learn more about the Administrative Assistant program at Red River College. The next intakes for the Notre Dame Campus (Winnipeg) are May and August 2017.