Careers in construction management: Flexible program provides opportunities to enter workplace sooner, upskill for management roles
Construction is more than just steel-toed boots on the ground, with many leadership roles working on sites and behind-the-scenes to ensure planning and execution is completed to code. Demand is always high, especially in a city like Winnipeg, with ever-expanding commercial and residential opportunities.
That's where the Construction Management degree program from RRC Polytech comes in. Uniquely positioned to give students a range of career choices, the program gives grads the option of three exit points for different levels of certification — or they can continue with the four-year program to get the full Bachelor degree. Students also have six months of paid co-op experience each summer to provide hands-on learning.
The result, according to program instructor Tammy Harper, is a grad who's instantly hirable.
"When we were in-person for convocation, someone would always ask, 'Who has a job right now?' and pretty much all our students have their hands up, and really the ones that don't are trying to decide which job to take."
Harper's focus for instruction is in leadership and human resources. Both are critical parts of the Construction Management program, which provides all students, even those with a skilled trades background, the opportunity to develop managerial expertise.
Harper teaches a leadership course that prepares grads for real-world challenges, including solution-based management,problem management, analytical thinking, conflict resolution, and how to be a leader that adapts to their employees' needs.
"Being a leader is easy to say but hard to do, and part of it is being the leader your followers need. I try to teach them about different kinds of leadership — trying to figure out what your strengths are and what others' strengths are, and how to lead that person in a way they can be successful."
Technical learning is part of the path, too. Ellowyn Nadeau, also an instructor in the program, explains how students get more specialized as the terms go by — but still have that opportunity to step out on one of the exit points and learn in the workforce, if they so choose.
"In first and second year, it's a lot of technical information — math and graphics, surveying, communication fundamentals — courses that give basic knowledge. Then third and fourth year are much more practical, very related to working in construction and courses become more specific," Nadeau says.
"Exiting out of the second year gives you a credential you can sell to employers, and you can build your career that way. Exiting out of third year, you get more experience because of your co-ops and more practical pieces. And after four years, it's a degree, on par with universities."
The combination of leadership and technical learning was critical for Joel Jackson, an RRC Polytech grad who finished the four-year degree in 2016. Two years after graduation, Jackson made the switch to representing an owner in construction, working as a development manager at Private Pension Partners, one of Winnipeg's real estate development and asset management companies.
"The Construction Management program prepared me to work in the construction industry and has given me a strong foundation for effective communication, personnel management, technical knowledge and many other important tasks incurred in daily life within small to large businesses," says Jackson.
Co-op experience is a critical part of the equation for Construction Management students. By having an opportunity each summer to apply their learning, students can get more senior roles within their co-ops, and even stay with the same employer over multiple years.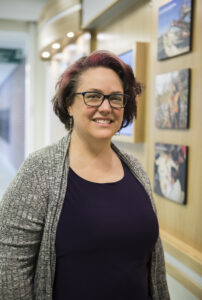 "Each time it's a little more responsibility from your employers," says Nadeau. "That third co-op, a lot of times can lead to full-time employment with your employer. It has more responsibilities, maybe shadowing a project manager or a superintendent, and they can pass on considerable more knowledge."
Participating co-op employers include large contractors like Bird Construction, PCL, Graham Construction, and Ernst Hansch, and smaller construction firms with a focus on northern projects like Penn-co and Parkwest Projects.
Students have also spent terms planning for the Province of Manitoba, or conducting inspections with the City of Winnipeg.
"The co-op experience is fantastic and not all institutions have that type of program," adds Nadeau. "For us, essentially you need co-op terms in order to graduate, so it's not entirely left up to the students. We support the employers and the students to make sure the six-month co-op is beneficial for everyone. There's lots of work that RRC Polytech does to ensure that employers register their positions on Career Bridge and we encourage the students to work through that system."
After graduation, those with a Construction Management degree have the skills to take on leadership roles oncethey've gained the necessary experience, and even assume some management roles within a few years, depending on their entrepreneurial spirit and background.
"Given a solid work ethic, the ability to learn quickly and a drive to take on more responsibility, some can make the move into a project management role within three to four years from graduation," says Nadeau.
"I've seen students take on business development manager roles four to five years out of graduating.  These roles include developing proposals, leading teams through the interview process and working through pre-construction tasks, all the while establishing strong relationships with clients, consultants and subtrades."
Construction Management
Upgrade your expertise and learn to plan successful projects across the construction industry. The Construction Management program is still accepting applications for the upcoming Fall 2022 intake, but seats are limited so apply today.
learn more
Profile by John Gaudes (Creative Communications, 2012)