Careers in electrical engineering technology: Grads set for exciting paths thanks to co-op opportunities, expert instructors
As the country and world at large becomes more connected, electrical engineering technologists are critical to maintaining those connections because they design, install or maintain all types of electrical and electronic systems.
Fiona Hatherell, an instructor in RRC Polytech's Electrical Engineering Technology (EET) program, puts an even finer point on it.
"The kinds of jobs EET graduates get are kind of invisible to the everyday person," she says, noting these behind-the-scenes, yet critically important careers include electrical technicians, broadcast engineers, technical writers, substation technicians and more.
In RRC Polytech's program, students gain a foundational knowledge in their first year of the 28-month diploma program. After that, they enter one of three specializations — Electrical Engineering Technology, Electronic Engineering Technology, or Instrumentation and Control Engineering Technology — before a mandatory co-op where they get to put their knowledge to work.
Students also have the optional opportunity of a co-op between first and second years, which can help them bring some practical knowledge back to the classroom.
"They come back from co-op with a really enriched sense of where they're going in their program," says Hatherell. "They have stories and a much better understanding of what they've seen and how to apply it in the classroom. It's quite incredible."
The co-op aspect of Electrical Engineering Technology isn't simply about sending students off without direction, however. RRC Polytech instructors, including co-op coordinator Hojat Norouzi, take an active role in monitoring students and pushing them toward success.
"I monitor and try to secure as many jobs as possible for our students. Employers will post a job with us starting in January each year, and students will receive emails about particular jobs, where they'll then have the opportunity to apply."
Norouzi says the mandatory co-ops, strategically timed at the end of Year Two, often create a launch pad for entry level jobs.
"In many cases, I would say more than 80 per cent of the time, the student working in the co-op program — especially in the second year — the same employer will hire them when they graduate. I've seen many cases when a student finishes [their first] co-op, they come back to do the final term and they continue working at that company, too. If a student is performing well, they would secure a full-time job after graduation."
Part of this successful pipeline is the program's notoriety within the industry. Large-scale employers take several co-op students every year, and Norouzi says that available positions have increased in recent years, with more opportunities to come.
"In the last two years, despite COVID, we had a very successful area," says Norouzi. "Last year, we had more job offers than students in the co-ops. I'm anticipating the same thing to happen this year. With [Manitoba Hydro] as an example, it doesn't matter if COVID or not, cold or hot, they need people to come work for them — and we've seen their requests increase this year."
Hatherell backs up the program's relationship to industry as one of the main advantages of choosing RRC Polytech over other institutions.
"We're really well tied to industry. We're getting feedback from our industry employers and people who do co-ops or projects with us, and we get this constant reminder of what's important to them and where they see their industry going — and they're really blunt about what isn't important anymore."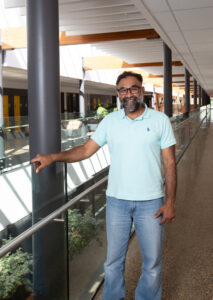 Electrical Engineering Technology grad Bhupinder Gill (shown above, at left) was one of those students who was able to leverage this knowledge into his career.
"I personally thank all the instructors," says Gill. "With their guidance, I worked as a distribution design technologist with Stantec Consultants, and am now a protection trainee at Manitoba Hydro. From a general laborer to technologist, it's like a big dream come true for me."
Instructor-grad relationships are another aspect of EET that benefits both the program and the industry, with a circular effect ensuring that past grads hire future ones and continue to relay to the program what's important in their workplaces.
"I love keeping track of students and hearing how they're doing," says Hatherell. "If you've developed a strong relationship with a student, they'll use you as a reference later on for things like their final project, because if they don't have a lot of experience in jobs, they'll refer employers back to you on their work ethic or ability to overcome problems."
Those problem-solving abilities are baked into the program's coursework, and to Hatherell, it's the ability to not only build knowledge, but also apply it in difficult circumstances that separates an RRC Polytech grad from the rest.
"You have to be tenacious with what you're doing. Everything that you're learning in the classroom is important and a building block to things you're going to learn in subsequent courses and terms. That really eliminates a lot of useless knowledge; everything you're learning is important in some way and usable almost immediately."
Electrical Engineering Technology
Prepare for a career in electrical, electronic, instrumentation and control engineering technology. The Electrical Engineering Technology program is still accepting application for the upcoming Fall 2022 intake, but seats are limited so apply today.
learn more
Profile by John Gaudes (Creative Communications, 2012)