Business Administration grads named 2021 Lieutenant Governor's Medal recipients
Every year, Red River College awards up to four Lieutenant Governor's Medal awards to graduating students who excel in academic and technical achievement, involvement in College and/or community activities, and good character.
This year, Red River College is proud to award two winners who embodied every aspect of the award: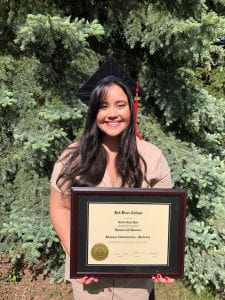 LAURA DYER: Business Administration – Marketing
The COVID-19 pandemic and the transition to online learning was a challenge for many students — Laura Dyer included. Throughout the last 15 months, Dyer remained committed to her studies – completing her final exams with a cumulative GPA of 4.23, and to her community throughout her academic journey.
Community involvement has always been important to Dyer. She has been a volunteer with Motion Ball for Special Olympics and Larche Winnipeg, organizations supporting individuals with intellectual disabilities, for three years. She describes these volunteer experiences as life-changing because of the selfless and kind people she has had the honour to develop relationships with.
She is also an active member of the RRC community, participating on both the women's soccer and futsal teams.
Recognizing the challenges the COVID-19 pandemic was having on people's mental and physical health, she volunteered her time as an online fitness instructor five days a week to provide home workout videos to individuals in the community.
Dyer is described by her nominators as an ambitious, motivated, enthusiastic leader, and an "outstanding performer with a shining personality."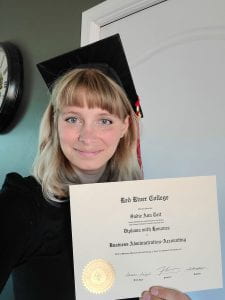 SADIE TAIT: Business Administration – Accounting
After a successful career working as an insurance broker, Sadie Tait was ready for the next challenge and enrolled in the program at RRC's Portage la Prairie Campus.
In her first year in the program, Tait excelled — achieving perfect scores on several exams and tutoring her peers. When the College transitioned to online learning as a result of the pandemic, Sadie maintained her high grades and transferred to the Steinbach Campus for her final year to pursue an accounting major.
The summer before her final year, she learned she was pregnant with her first son. She maintained her grades and worked hard to complete her program online, and she and her husband welcomed him into the world two weeks before she completed her final exams in April 2021.
While completing her studies, Tait served as an elected councillor for the Municipality of North Norfolk, worked part-time, and volunteered for several organizations in her community, including the MacGregor and District Kinette Club, the MacGregor-Austin Senior Support Program, the MacGregor Curling Club, and the MacGregor Chamber of Commerce.
She received five glowing letters of recommendation in support of her nomination, describing her as a leader, professional, hard-working and an essential asset to her community.