TACAM harnesses aerospace manufacturing technology in fight against cancer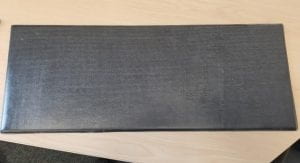 It may not look like much, but the panel pictured at left — built by staff at Red River College's Technology Access Centre for Aerospace and Manufacturing (TACAM) — is a powerful weapon in CancerCare Manitoba's fight to save lives.
Dave Austin, a program facilitator for TACAM, says the panels are fabricated by hand using the same materials, equipment and processes that students in RRC's Aerospace Manufacturing program use to create aircraft paneling.
"The process is simply a matter of getting the materials (graphite and aluminum) cut into the size they need, and pressing them together to create a solid piece."
The compressed sheet is heated in an oven for 90 minutes and then cooled, removing the air to ensure the plies bond. The result is a quarter-inch, 30-ply aerospace-grade sheet of carbon fibre.
From each panel, CancerCare fabricates indexing bars designed to help cancer patients maintain the same body position across multiple radiation treatments.
Chad Harris, a member of the Department of Medical Devices at CCMB, says the carbon fibre has unique properties that make it especially useful for radiation treatment.
"When you're firing a beam of radiation at a tumour, it's critical to maintain an exact distance between the beam and the tumour each time you do it."
The index bars fit onto the treatment couch and connect to appliances and the patients. But these same bars can get in the way of the radiation beam and blunt its accuracy. Harris uses the analogy of the break shot at the beginning of a game of pool to illustrate.
"You fire the ball, but it strikes others, scattering the energy in all kinds of directions. Metal, for instance, can change how and where the energy is deposited in the tissue. Carbon fibre mitigates this issue — and that gives us greater freedom, more accuracy and less compromise in the treatment we provide our patients."
TACAM has donated similar panels to CancerCare Manitoba (CCMB) several times over the past 10 years.
Austin describes the process as quick and easy, but adds, "If it makes a difference at CancerCare Manitoba, then it feels good to help."
Andy Egtberts, a senior design technologist for CCMB, describes the College's partnership with the organization as a productive two-way street.
"CancerCare Manitoba provides RRC students with summer jobs, practicums and apprenticeships, while RRC gives us access to the latest applied research and technology, and helps us find novel and sometimes cutting-edge solutions to challenges we face," he says. "The carbon fibre panels, for instance, have many applications that help CCMB physicians bring ideas to life."
"It's great to see a team of very talented people using multiple skills and bringing our specialized technologies and facilities together to help meet hidden needs in the local community," adds Neil Lavoie, chair of RRC's Aviation and Aerospace programs, which are located at the College's Stevenson Campus, where the panels are built.
TACAM supports Manitoba's aerospace and manufacturing sectors by providing access to RRC's technological assets, specialized facilities and equipment, and subject matter expertise. Industry benefits through applied research, support for product development, technology evaluation and demonstration, technical support, knowledge and technology transfer, and specialized training.
TACAM leverages its scope by operating out of several RRC facilities, including the Stevenson Campus, the Smart Factory, the Centre for Aerospace Technology and Training, the Composites Model Factory, and the Centre for Non-destructive Inspection.
It receives support through a network of partners and funders: StandardAero, Western Economic Diversification, the Province of Manitoba, and the Natural Sciences and Engineering Research Council of Canada (NSERC).