Designer genes: College and partners launch new genetic mapping initiative
This week, Red River College became the first educational facility in Western Canada to unveil its own next generation sequencing (NGS) device, thanks to a new partnership aimed at putting the power of genetic mapping in the hands of the general populace.
Genome360 is an initiative launched by not-for-profit group Genome Prairie and a consortium of funding partners, with the goal of building a hub for genomics and phenomics capabilities in the province. Bolstered by a $2.3-million investment, the initiative aims to propel Manitoba to prominence in the genomics sector.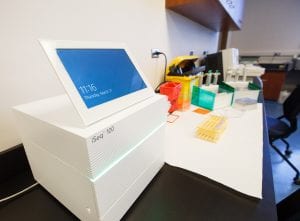 Included in the investment is the College's new iSeq100, a small but powerful machine — not much bigger than a microwave — that allows for improved DNA mapping and could open up new developments in medicine and agriculture.
Designed for simplicity, the iSeq100 allows labs of all sizes to sequence DNA rapidly and with high accuracy. The equipment will provide RRC students with the hands-on training needed to excel within laboratories and to thrive as practitioners in this growing field.
"One of Red River College's strengths is having the ability to introduce and train our students on new and emerging technology," says RRC President Paul Vogt. "The addition of the iSeq100 will ensure that students graduating from RRC will have the knowledge, confidence and experience to meet the needs of industry today, and into the future."
Also on display at this week's announcement was a prototype Molecular Biology Interactive Learning Enterprise (MOBILE) lab — developed in partnership with Westward Industries to demonstrate and offer organizations access to field-deployable devices. The electric-powered MOBILE lab (shown above) provides storage, transport and sufficient workspace to bring the laboratory into the field or the classroom.
"The Genome360 initiative provides a unique combination of capacity and expertise for the wide distribution and democratization of advanced genetic technologies in the province of Manitoba and beyond," says Dr. Simon Potter, Genome Prairie's Chief Scientific Officer. "We look forward to working with the community to realize the economic and social benefits inherent in this exciting venture."