The Force is strong with this one: Lucasfilm's Pablo Hidalgo to receive Distinguished Graduate Award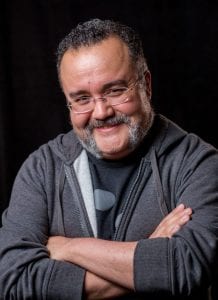 As a wise man named Obi-Wan Kenobi once said, "In my experience, there's no such thing as luck."
And it certainly wasn't luck, but hard work and passion, that earned Pablo Hidalgo — a Winnipeg-raised Star Wars fan, now working for Lucasfilm in California — a Distinguished Graduate Award from Red River College.
A 1996 alum of RRC's Creative Communications program, Hidalgo proved to be more than a simple man trying to make his way in the universe. The skills he acquired at College put him on the path to where he is today.
While working at McKim Communications Group, he used networking skills to land a role with one of his clients, Frantic Films.
That leap took him to California, where he was quickly presented with an opportunity from Lucasfilm — to work as a writer and content developer for StarWars.com.
Since then, Hidalgo has become a creative executive as part of Lucasfilm's story development team, earning the unofficial title of Lucasfilm's 'resident Star Wars geek,' who's most often consulted about the timelines and mythology within the ever-expanding Star Wars universe.
He'll be presented with the award on Sat., June 23, at the second annual FanQuestconvention taking place at RRC's Roblin Centre. He's also scheduled to speak twice at the event: presenting Inside Solo: The Official Guide (noon, Sat.) and From Winnipeg to a Galaxy Far, Far Away (1:00 p.m., Sun.).
"It feels great to be recognized by Red River College as a Distinguished Graduate," says Hidalgo. "If anything, my journey has taught me to always take the opportunities that are presented to you and stay true to who you are. Growing up in Winnipeg was integral to growing my Star Wars hobby obsession, and it's great to receive this award surrounded by people who understand the creative energy you can harness when you live somewhere that's covered in snow half the year."
FanQuest attendees will have the opportunity to interact with Hidalgo, whose insider knowledge of Star Wars canon is used by to confirm or deny rumors about characters, locations or events within the fictional universe. Director J.J. Abrams said during the production of Star Wars: The Force Awakens, he often emailed Hidalgo up to three times a day with questions.
"I think a lot of people attending FanQuest can be inspired by Pablo and this achievement," says FanQuest organizer Daniel Vadeboncoeur, who's also a CreComm instructor at RRC.
"He's someone who took his fandom, went to school for some professional skills that could complement that fandom, and climbed his way to a job many Star Wars fans dream of having. So we're very excited to be able to honour him with this award at this year's conference."
Hidalgo's ability to apply the skills he learned in CreComm and build a career out of his lifelong passion is one of the primary reason he was selected as the recipient for 2018.
"A lot of students enter the CreComm program with interests or causes they're passionate about, and it's really exciting when they use that passion to achieve great things for themselves," says Kirk Johnson, Dean of Business and Applied Arts at RRC.
"Pablo's professional achievements speak for themselves. They also make him an exceptional ambassador for the College, and an inspiration to young fans growing up today."
The Distinguished Graduate Award is one of RRC's highest honours, recognizing graduates who have distinguished themselves through outstanding achievements in humanitarianism, professional excellence, and community service.