College hits home run with new beer-flavoured pretzel seasoning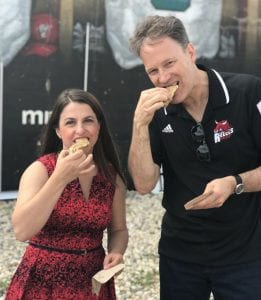 Forget about peanuts and Cracker Jacks. Tonight, Red River College will partner with local snack mainstay The Pretzel Place, to launch a new beer-flavoured pretzel seasoning at the Winnipeg Goldeyes' game at Shaw Park.
The seasoning is the edible innovation of RRC's Culinary Research & Innovation (CR&I) program, which in recent years has seen substantial growth in the areas of new product development and ingredient applications.
"The demand for culinary research and innovation in our province is increasing, and our CR&I program continues to 'step up to the plate,' to develop new and advanced uses for locally grown food while supporting Manitoba's agricultural and food industry through applied research," says RRC President Paul Vogt (shown above, with The Pretzel Place owner Sue Leclair).
"This partnership with The Pretzel Place is just one of many delicious examples of new product creation and culinary creativity at work in our community."
The CR&I program is housed within RRC's School of Hospitality and Culinary Arts, allowing researchers to tap into the knowledge of accomplished chef instructors, and to recruit students to work on applied research projects with industry.
The program was first launched in 2014, and has increased its activities with help from Natural Sciences and Engineering Research Council of Canada (NSERC). To date, the program has been involved in over 40 industry projects with organizations such as the Manitoba Pulse and Soy Growers, Granny's Poultry, Piccola Cucina, and MS Prebiotic Inc.
Leclair, a graduate of RRC's Business Administration program, says the idea for the seasoning came from Winnipeg Goldeyes and Blue Bombers fans, who inspired her to marry the flavours of a game-day beer with that of her popular twisted snack.
"I first came up with this idea nearly three years ago, so to have it go from idea to concept to reality is a really exciting feeling," she says. "It would not have been possible without the support and work of RRC's dedicated Culinary Research team.
"Through this partnership, I was able to work with industry's leading chefs, and gain access to the latest information on food trends, sciences and innovations. I am thrilled to share this Manitoba-inspired, locally developed seasoning with the entire community."
The CR&I team will offer free bite-sized samples of the new pretzels starting at 6:00pm on the Shaw Park promenade. After today, it will be available at The Pretzel Place locations at both Shaw Park and Investors Group Field.