Sparks fly for College Transition student in Women of Steel™: Forging Forward Program
Usually, students look forward to a break in the summer between classes – time to relax and decompress, forget the pressure of deadlines and obligations, maybe stretch out on the sand at the beach or trudge mountain trails.
Tessa Cochrane's respite from class lasted barely a week. She finished the 10-month College Transition program and intended to apply for Introduction to Trades to eventually secure her spot in the Welding program but when Women of Steel™ presented a tuition-free, fast-tracking option starting in May, she jumped at the opportunity – sacrificing some summer fun to effectively cut down her time in post-secondary by a whole year.
Cochrane graduated high school in 2018 and bounced around various fields from retail, to construction, to peacekeeping. At first, she didn't see the importance of post-secondary education, but after experiencing employment competition in multiple industries, she decided upgrading would be beneficial.
After high school, she describes her academic level as fairly moderate, but College Transition helped boost her faith in her abilities and her straight 'A' grades in the first term reflected her drive and potential. By adding experience to her earnestness, Cochrane was confident she'd find employment but still wasn't exactly sure what she wanted to do – for her, the best approach was taking it one day at a time to find her passion.
Growing up, Cochrane recalls, she set her sights on becoming a doctor, a veterinarian, a natural resource officer, a firefighter – and countless other things that a kid's attention might latch onto. She came from a line of firefighters and grew up on a farm, so handiness was inherent in her family. She'd seen her father and grandfather welding on the farm but said she hadn't considered the trades until she met some influential tradeswomen at the College and was inspired by their success.
"I've picked and settled on so many things over the years, my parents ask, 'Is she going to stick with welding?" Tessa said with a laugh. "Yeah, I think I'll stick with welding."
In the College Transition program, one of Cochrane's assignments was to conduct a career exploration in preparation for the January 2023 Indigenous Career Fair. While researching fields and careers that interested her, Cochrane realized that most of her previous pursuits were influenced by the things she thought people needed her to be – to fill a role that needed filling.
College Transition allowed her to really tap into her potential and discover things that would not only challenge her and put her skills to use, but that she could love doing and be good at. At the Indigenous Career Fair, Cochrane had the chance to explore different opportunities around the province and connected with several employers. She was eventually offered a job placement with an organization closer to home in the Interlake Region.
Cochrane intended to take the summer position at that point but when RRC Polytech posted the Women of Steel™: Forging Forward Program in January, she was among the first in line to apply – taking advantage of the immediate opportunity served up on a 'stainless steel' platter by the CWB Welding Foundation, using Federal funding to attract more women to the trades.
When she completes the intensive 15-week program and two-week job placement Cochrane is hoping to have earned four Canadian Welding Bureau qualification tickets making her readily employable for basic manufacturing and prepared for additional post-secondary training or apprenticeship.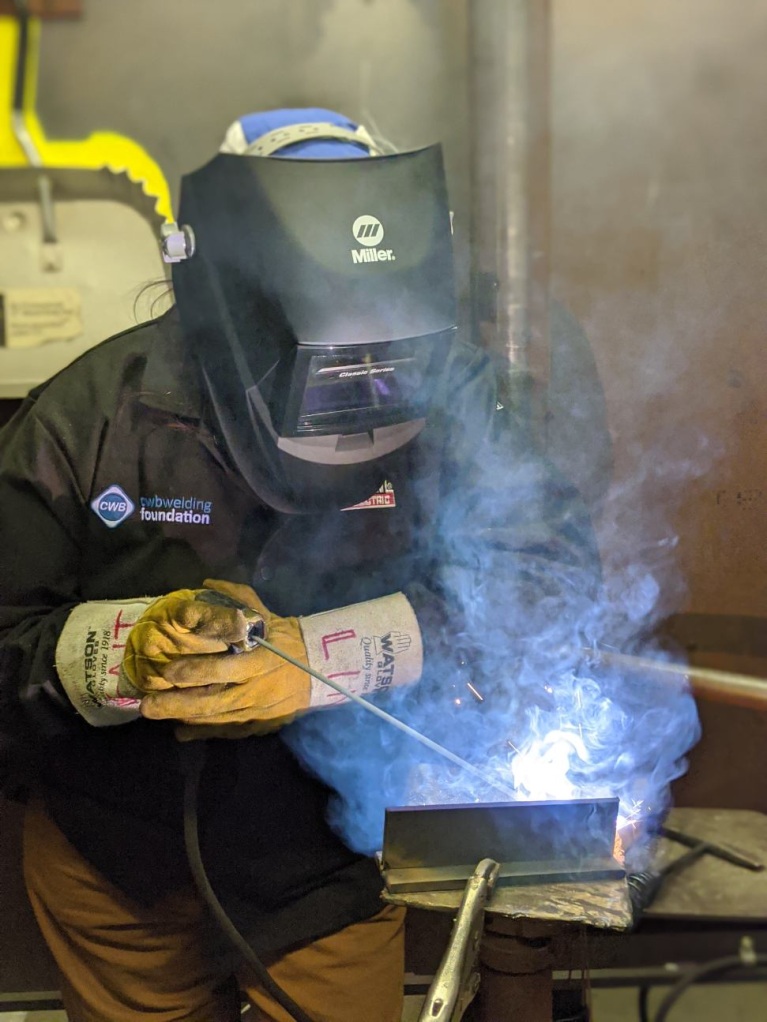 Cochrane credits identifying her passion and establishing her career path to the growth she experienced while in College Transition. Although she grew up in a Christian family, the program provided a safe space for her to learn more about her ancestors' traditional ways and gave her perspective on cultures and the many similarities between Indigenous people all around the world.
Her favourite part, she says, was the fact that support was everywhere for everything. As an aspiring welder she appreciates the bonds that she's created with classmates and instructors at RRC Polytech and hopes she inspires others to invest in themselves and pursue education.
"There's no judgment, there's a strong purpose here that students find, and that foundation really helps you find what it is you want to do," said Cochrane.