Elevate your next dinner with this #RRChomechef recipe!
With our new reality of working and learning at home due to the COVID-19 pandemic, we are tapping into the RRC spirit of innovation to bring you culinary and hospitality inspiration with our Hospitality at Home video series.
Just like Grandma used to make – this homestyle Chicken & Dumplings recipe is sure to satisfy your weeknight comfort food cravings. This is a fun one to try with kids – ask them to help you pinch the dumplings while the chicken and vegetables simmer in the broth. Bon appetit!
Chicken & Dumplings
by Chef Karl Oman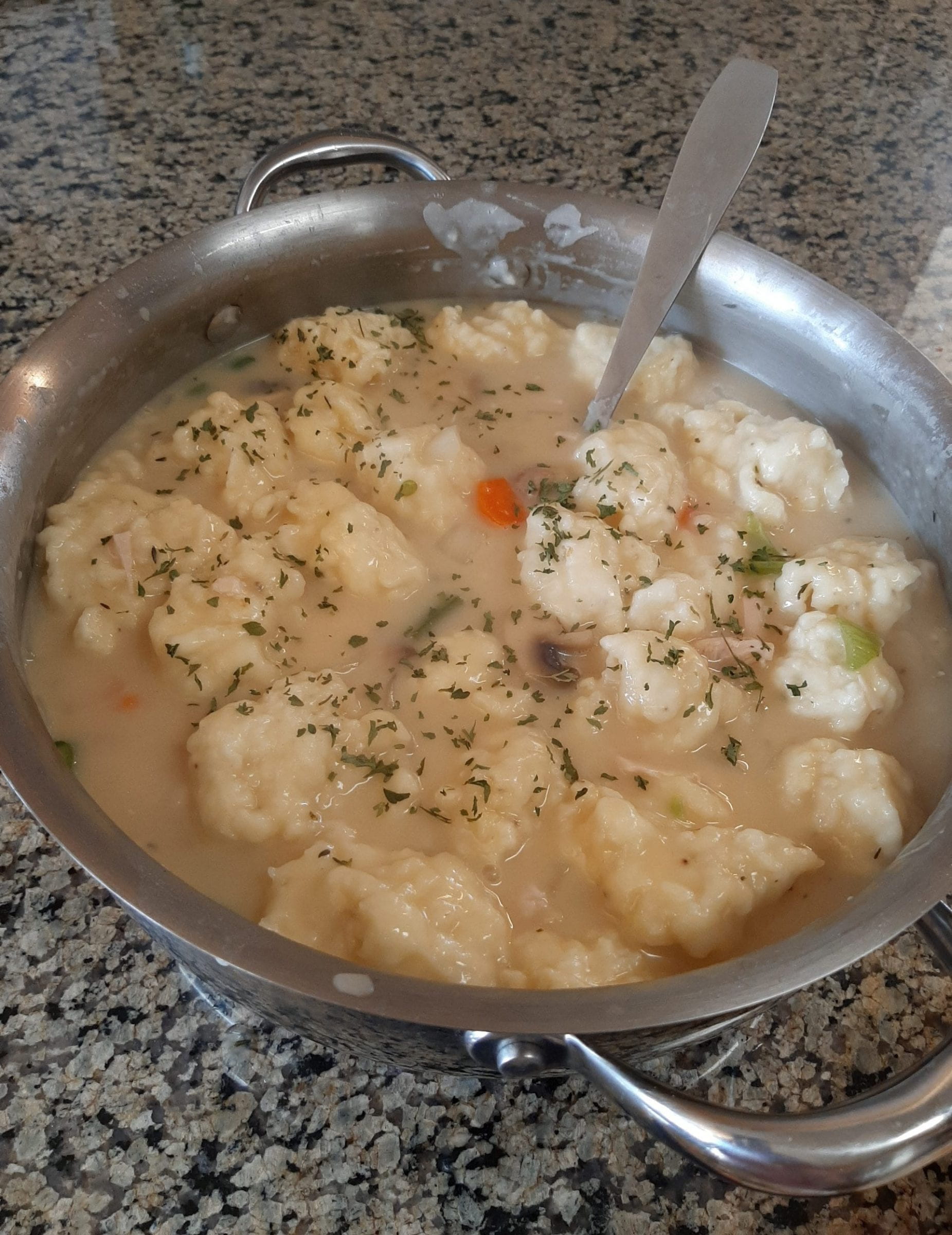 Ingredients:
450 g Cooked chicken (cubed – can use more chicken if desired)
1.4 cup Butter or margarine
1 medium Onion- diced
1 medium Carrot- cubed
1 stick Celery- small triangle
6 to 8 Snap peas- sliced
3 or 4 Mushrooms- sliced
1/2 cup Flour
6 cups Chicken stock- homemade preferred
1/4 tsp Dry thyme
100 ml Cream – (choice) 10% or 18%
S & P (to taste)
2 shakes Lea & Perrins
2 shakes Tabasco – Opt.
Dumplings
2 cups Flour – all purpose
1 tsp Salt
4 tsp Baking powder
2 tblsp Butter or margarine
3/4 cup Milk
Method:
Prepare or measure all ingredients first and set aside.
Warm a thick bottom pot with the butter and sauté all the vegetable until lightly cooked.
Add the flour to make a roux.
Fry the flour a little to remove some of the starch. Do not allow flour to brown.
Add the stock and whisk to dissolve the roux. Continue to stir as it warms and thickens. Medium heat.
Add the rest of the seasoning ingredients and prepare the dumplings while it simmers.
Dumplings- Mix flour, salt and BP. Cut in butter and then add milk. Mix until combined and then shape into random pieces.
Remove any flour scum that may form on the sides. Add the cream.
The dumplings should be all pre shaped so they may be added quickly. Place on any open spot on the liquid. Do not submerge if possible.
Be sure mixture is at a gentle simmer, cover with a lid and no peaking for 12 minutes.
When the timer is done, it will be ready. Spoon and enjoy!
N.B. Same recipe can be Hamburger stew. (Use 600 gram raw.) Brown beef beforehand and set aside until needed. Use beef stock instead. NO CREAM needed.
---
You can find the full video of the method up on our Instagram. Follow along and post your own recipes! Tag us @redrivercollege and use the hashtag #RRChomechef.