Creative Communications grad returns to CentrePort Canada, this time at the helm
Get to know Carly Edmundson and you will soon see that she is a natural-born leader. She just gets things done.
Having finished her coffee and a business meeting, Edmundson leans over her table in the Hargrave St. Market food hall to tell you about herself.
"I grew up in the community of Pierson, in the southwestern corner of Manitoba. The population there is about 175," she explains. "I came from a place where, if you wanted something done, you had to act. I wasn't going to have other people do something for me. That wasn't a button I could press. It made me self-sufficient."
Edmundson has taken herself from humble beginnings to become one of Manitoba's most dynamic business leaders. As President and CEO of CentrePort Canada Inc. since May of 2023, she oversees North America's largest trimodal inland port and Foreign Trade Zone.
The path to her corner office went through Red River College Polytechnic, where she earned her diploma in Creative Communications (commonly known as CreComm) in 2006, specializing in Advertising.
Established in 2008, CentrePort is a hub for transportation and distribution businesses. It covers 20,000 acres located west of Brookside Boulevard in Winnipeg and the municipality of Rosser. "That's an area larger than Manhattan (14,600 acres)," Edmundson points out. Currently, more than 2,300 acres are in active development at CentrePort.
She worked at CentrePort for six years, climbing to Executive Director of Marketing and Communications by the time she left in 2019. After that, Edmundson was Senior Vice-President for four years at Cushman & Wakefield Stevenson, a real estate firm with dealings at CentrePort, before returning to the inland port corporation last spring.
President of 'The Agency'
Edmundson didn't develop a taste for leadership until she was a student at RRC Polytech.
"One of the things I learned about myself in CreComm was that leadership was something I enjoyed doing. In our Advertising class, there was this room at the Exchange District Campus that we called The Agency. We all functioned as an ad agency when we weren't doing our classroom stuff. Everyone had a role in the Agency, and I was President," she said.
"The environment at RRC Polytech encouraged that in me," she continues. "Our instructors would say, 'Carly, you're a good leader. You should lean into that,' or, 'You should speak up more because you have good leadership instincts.'"
As a post-secondary student, being anonymous in a crowd was a new experience for Edmundson. "My first year in university, while that was also a good experience, coming from a small town I had not experienced that before. That was freeing, in a way," she said.
Her true community, however, awaited her at RRC Polytech. "When I came to Red River the next year, I realized, 'Oh, these are my people, and this is my thing.' You had smaller class sizes where you got to know people, you made stronger personal connections, and there was a high degree of accountability. I liked those high expectations."
Edmundson found that she thrived under pressure. "CreComm was a hard program. I was there by myself, four hours away from anyone I knew from home," she remembers. "But something was empowering about that."
There were times she doubted herself. "Facing another tight deadline I would think, 'I can't do this.' Then, after I did do it, I thought, "I can handle anything!' It gave me confidence in myself."
"I came out of CreComm feeling sure that I could do whatever was thrown at me in the job market. It's an intense program, where you have so many competing priorities and deadlines. In job interviews, I felt like I could handle anything they had to give me. Looking back now, I understand what an advantage that was."
At RRC Polytech, strategic communication was baked into Edmundson's leadership style. "When I look at CentrePort, specifically, it is a very large project that involves many stakeholder groups, many different concepts, and hundreds of businesses on site. Being able to communicate is a huge piece of the puzzle," she said.
"It has helped me work with CentrePort's communications staff because we speak the same language. To be honest, resisting the temptation to wordsmith or get right in there is a struggle because it is my natural skill set," she adds.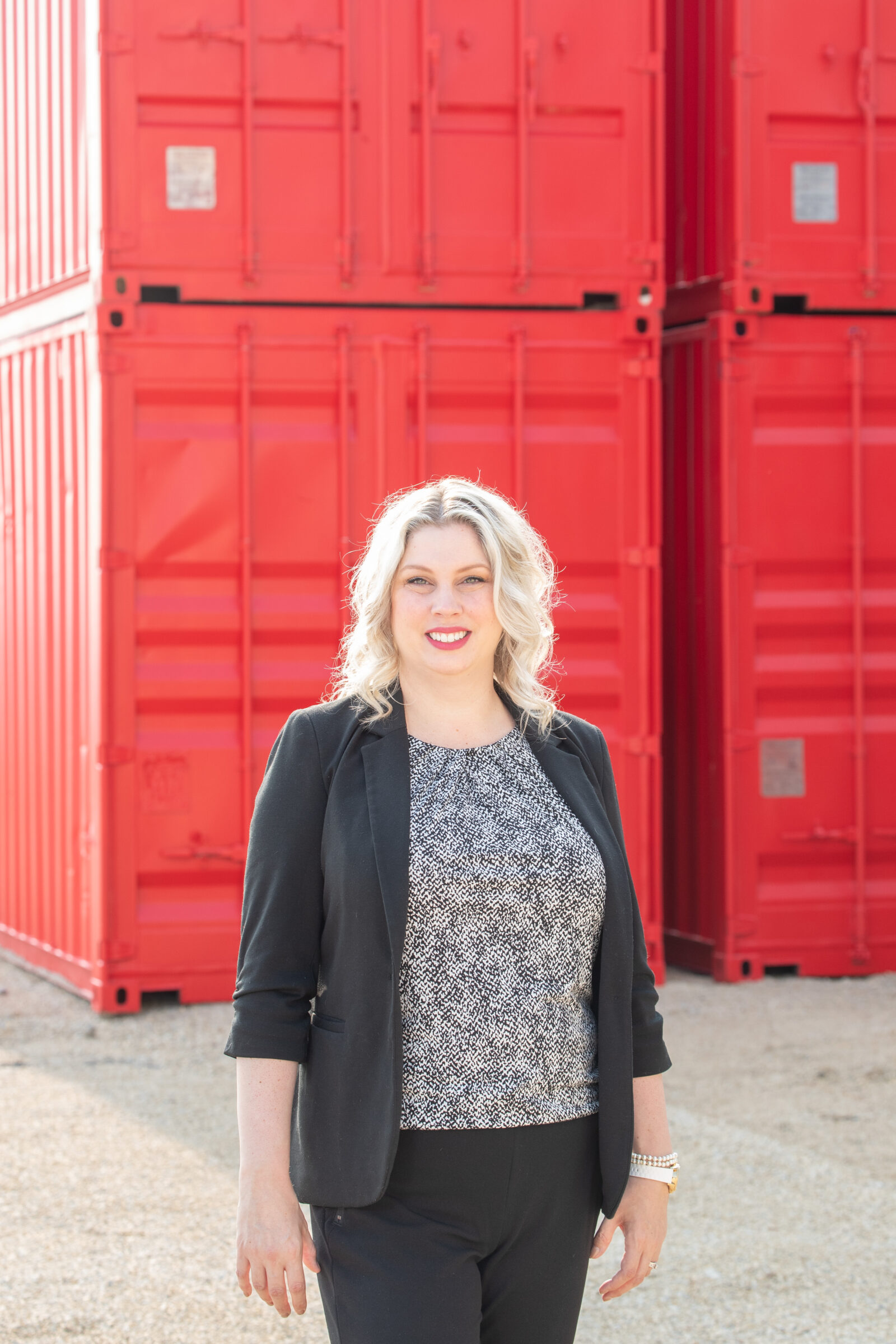 A mutually beneficial relationship
RRC Polytech is among the industry leaders that have partnered with CentrePort. "Red River's Notre Dame Campus is located at CentrePort. So, there is a natural alignment there," she said.
"When we have companies that are looking to relocate to CentrePort from other jurisdictions, one of the things that we say to them, as we tour CentrePort, is, 'As you can see, there's an educational facility right in the middle of all this industry that is building up around it.' I think that shows them the connection between education and industry in Manitoba. It is a physical representation."
Edmundson notes that RRC Polytech is a supporting partner in CentrePort Canada's Partnership Program, which allows companies and organizations to leverage business development, marketing, and networking opportunities.
"RRC Polytech has been collaborative with us over the years. They come to us for industry insight, and we go to them with what we are hearing from employers around labour concerns, or skills that are missing from the job market. Or skills that we are hearing great things about, too," she said.
"There are so many programs at RRC Polytech that directly support businesses and industries that are growing at CentrePort. There are a lot…anything to do with transportation, distribution, logistics, manufacturing, anything like that."
"I think we are both aware that our successes benefit one another. As CentrePort grows, it creates jobs for RRC Polytech graduates, and then, having phenomenally trained grads help companies at CentrePort with skilled labour," she said.
A synergy somewhat unique to Manitoba, it's this industry connection that helps RRC Polytech students get in front of what's ahead. With an RRC Polytech grad now at the helm of CentrePort steering its next stage of growth, the future is looking bright for both learners and industry leaders.
Profile by Nigel Moore (Creative Communications, 1998)
---
RRC Polytech's Creative Communications program helps you turn your creativity into a career. By learning to inform, persuade, and empower people with accurate, concise, and creative communication in a diverse range of industries, this fast-paced program will help you become the voice of your industry. Learn more about Creative Communications >