Creative Communications a full circle journey for Convocation alumni speaker
The opportunity to speak at your alma mater's Convocation is an honour coveted by many. For Sara Calnek, a graduate of the College's Creative Communications program, that opportunity came about in an atypical way – it came from wanting to win an RRC Polytech sweater.
"I've always wanted one," she says with a laugh. "You know, you'll see alumni sweaters around all the time – but when I was just out of school, it was expensive, and I didn't have permanent job at the time."
The contest in question, run last fall, asked alumni entrants to say what they love about the College. Calnek's submission was a heartfelt one – talking about how the program allowed her to diversify her now-15-year career in newsrooms and corporate settings, her gratitude for the education, and the "wide breadth of knowledge" that came with her diploma, which she earned in 2007.
Months after Calnek hit "Submit," alumni engagement staff at the College reached out to her about an opportunity to speak at the Spring 2022 convocation – the first one planned to be in-person since the onset of the pandemic.
"So, I didn't win the sweater, but I got one of the best experiences of my life, which was speaking to grads."
In her speech, the Senior Multimedia Specialist at Canada Life encouraged students to be life-long learners.
"Since graduating, I've presented to students about how the program got me to where I am. That included all of what I talked about – making contacts, being fearless, learning to push myself and learning from those in my industry."
Calnek also talked about the career path that brought her to her current role with Canada Life, which began somewhere familiar for Creative Communications grads – starting a job with your work placement employer. For Calnek, who graduated from what was then known as Broadcast Production, that employer was CTV Winnipeg, and her first role was videographer and editor.
In what started as weekend work "mostly chasing ambulances around," Calnek moved up the ranks and earned a permanent role at CTV in 2007.
"I had my own gear, my own truck, and was able to do some travelling, too."
Out-of-city gigs included covering the World Women's Curling Championships, the Canadian Hockey League Memorial Cup, and even a 24-hour trip to Disneyworld along with Make-a-Wish Foundation kids.
Calnek continued her newsroom career at CTV, then at CBC Manitoba, for eight years before government cuts left her at a career crossroads. She started to look at crossing over into corporate work and found a landing spot at Canada Life (then Great-West Life).
"Luckily, I had this great education. The thing about a Creative Communications education is it gives you so many skills, so you can make that pivot easily with the training you have."
Calnek started at Great-West Life in a writing-focused role, drafting internal communications for a large company of about 12,000 employees. This included finding stories in a corporate setting, while also exploring other interests like event planning and project management.
Through a connection, Calnek made a move into a role with the provincial government in 2018 – managing social media content, while helping with event planning and strategic communications for the Premier – before returning to Canada Life in 2019 in a different, yet familiar role: video producer.
Today, Calnek is still in this Senior Multimedia Specialist role, working with a small team in the company's marketing department doing "all kinds" of video production.
"Our company gives away a significant amount of our profits to charities and grants, so a lot of times we'll interview employees that volunteer outside of Canada Life, focusing our projects on community relations. For example, we gave $10,000 to a coffee shop here in Winnipeg, and I produced a video profile on them. It was a full production – lighting, audio, interviews, all of that."
"It's a very fluid process. From start to finish – planning, shooting, post-production – then we're delivering the finished video and the accessibility needs that come with that, like captions, audio descriptions, and photo epilepsy testing."
The exciting role is a few career stops in for Calnek, but that doesn't mean she's broken away from her ties at RRC Polytech. Part of her message to grads was encouraging fearlessness as they start their careers. This includes something that Calnek did in those early years: reaching out, even when it's hard, to let potential employers know who you are and what you offer.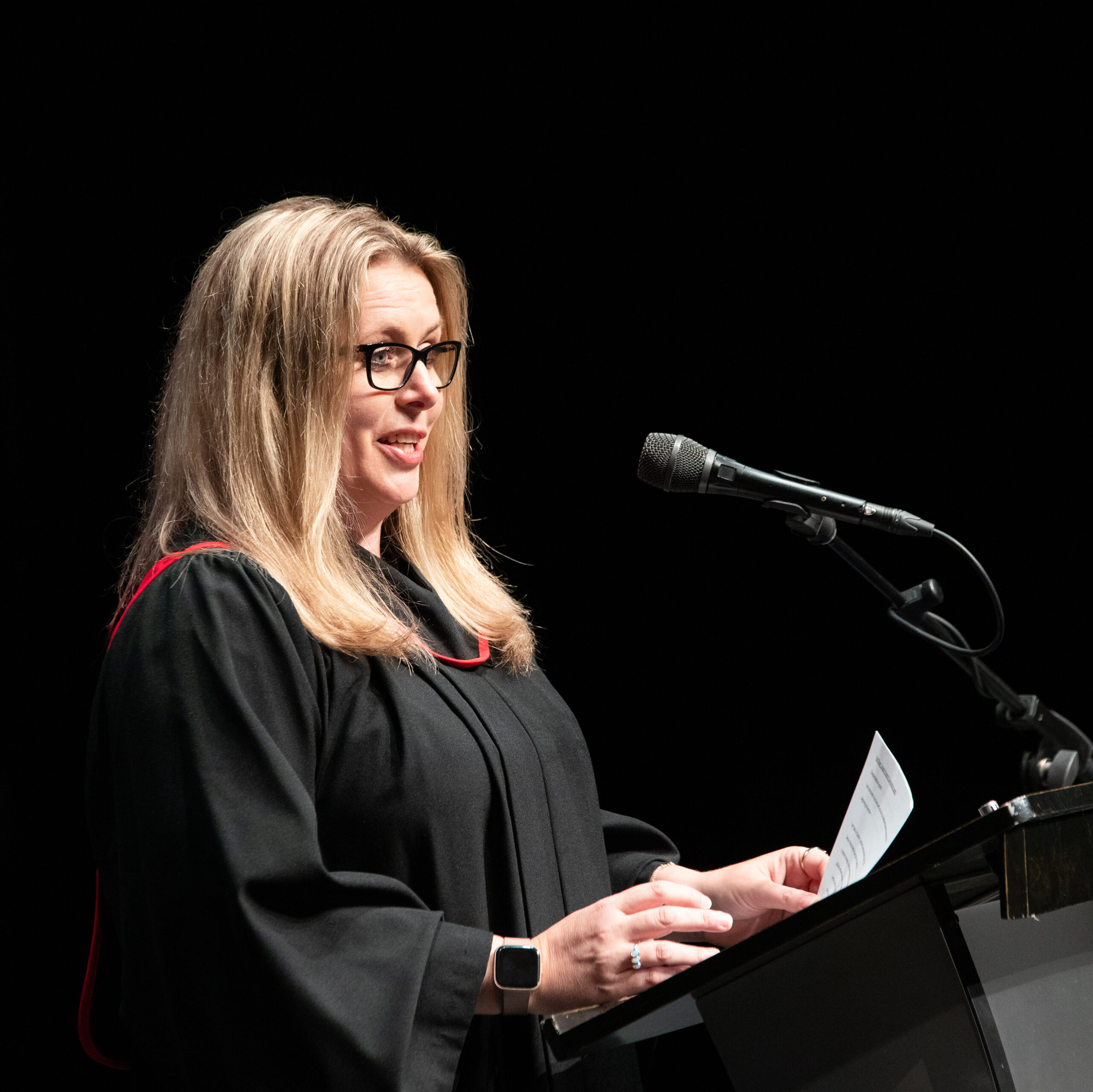 "People won't knock on your door. They don't know what you're doing unless you show them what you're doing. I think that really goes for all industries. People getting headhunted are those who've been around for 20 years, it's not grads coming right out of school."
"Say you want to work for Google. Finding the manager's information, researching them, discovering where they've come from, connecting with them on LinkedIn – then simply reaching out. Just that act of cold calling someone, it takes so much bravery, it's a hard thing to do. It takes a lot of guts. It shows that they're passionate, willing to put the work in, and willing to be uncomfortable."
That message must have hit home for grads this spring, because shortly after her speech, Calnek heard from two different students in the Convocation audience. The first came the next day, when she was asked if she knew anyone hiring in UX design.
"I connected her with someone in my network and four days later, she had a meeting, and there was contract work for her to do – so she got some work."
Later, another student working in videography who had taken a one-year course at RRC Polytech reached out to Calnek and ended up finding project work at Canada Life.
"Just that act, the two students reaching out, it makes me want to meet someone. I know how hard it is," says Calnek.
Looking back on her own time in Creative Communications, she thinks about how representation has changed too, and how a simple act changed the perspective on her career.
"When I started in Creative Communications, because I grew up in the 80s, you never saw girls carrying cameras in movies or on the news. I didn't know I could do something like that."
"When I got into the program, my instructors put a camera on my shoulder and said I can do whatever I want, and it changed my plans. I came in thinking I'd be a journalist, a writer, but once I put a camera on my shoulder, I was sold. What it really took was two instructors who identify as male helping a female succeed – showing me I can do whatever I want. It doesn't matter who I am or who I identify as."
That opportunity keeps Calnek close to Creative Communications to this day, as she hopes she can help provide that kind of moment to someone going through the program today.
"It was so life-changing for me; and the key thing that the program taught me was to help people, that everyone just needs a little boost sometimes and what those instructors did for me, I want to do for future students."
You can watch Calnek's inspiring Spring Convocation address here.
Profile by John Gaudes (Creative Communications, 2012)