Structural Engineering Tech grad builds opportunities alongside brick and mortar projects
For many, a relationship with your alma mater begins with admission — some paperwork online, an application, maybe some references.
For Structural Engineering Technology grad Jared Akman, his bond with Red River College Polytechnic started well before that. Back when the College's Roblin Centre was being constructed in Winnipeg's Exchange District, Akman was there with his family business — an early teen tasked with cleanup duty on the build site.
That connection between Akman Construction, an industry icon in Winnipeg, and RRC Polytech is at the core of Akman's career. Though he started with jobs as simple as sweeping floors, it wasn't long before he was moving up in the industry.
"I worked my way up as the building progressed into a deficiency coordinator," says Akman. "I started on clean-up to gain an understanding of the complexity of the build and to work alongside the trades in hopes of gaining their respect. That fueled my love for Red River, being involved in the amazing project on Princess Street."
Since then, Akman has not only graduated from an RRC Polytech Engineering and Construction Technology program — with a diploma in Structural Engineering Technology in 2008 — he's also worked on a number of other projects, including the new Skilled Trades and Technology Centre at the Notre Dame Campus, and RRC Polytech's newest expansion to the Exchange District Campus, Manitou a bi Bii daziigae, which opened downtown this fall.
Those projects have come to Akman Construction, a family business that Jared says he always wanted to continue with from a young age. The organization has been in his family since Aaron Akman, a certified carpenter, established the company in 1912 after immigrating to Canada from Russia. The company's work began by growing the city, constructing single family homes in the North End of Winnipeg.
"I was given the opportunity to choose what field of work I was interested in and get an education in that sector," says Akman. "But as the fourth generation, it was very important to me to carry on the family legacy."
Akman credits his experience as an RRC Polytech student with setting his career path in motion. Having looked around at those working at the company, he realized many were already RRC Polytech graduates, including his father, Richard. On the recommendation of his father, Jared decided to get into the program himself.
"That made my decision very easy," he says. "This was the right path."
After graduation, Jared continued to grow experience at Akman Construction, eventually taking leadership roles. When word reached him that RRC Polytech was putting out a request for proposals to the construction industry for the Exchange District project, Akman jumped at the opportunity.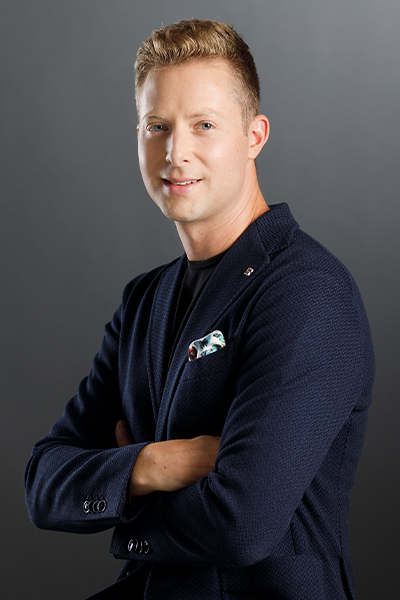 "I had many sleepless nights putting the proposal together and assembling the appropriate team. Then, there was preparation once we knew we were being interviewed."
Akman sees this as a key moment in his career, as for the first time it was him, not his father, taking a leading role on a touchstone project.
"That was big for me. It was a turning point in my career because the decision was that I was going to lead this team. Honestly, that was difficult — but it worked out well. My dad had done it before on other RRC projects, including the Roblin Centre and the Skilled Trades and Technology Centre. So, when (the Exchange District project) came along, we passed the baton."
With Jared at the lead, the new building is shaping up to be one of the most innovative of its kind in Canada. Targeting net zero energy, it will emit little to no carbon emissions.
"This was an important target," said Akman. "In our climate, it's difficult because of the extremes in temperature."
Quick to laud the building's solar power generation through building-integrated photovoltaics (BIPV), which were created in partnership with SolarLab, a company in Denmark, Akman says the energy technology isn't just technically stunning, it packs a visual punch too.
"It is a real showcase for the project," he says. "They're incredible, depending on which angle you look at them and how the light is focused. You're going to be able to see how they're producing power through a dashboard in the building. It's something we got very invested in, and it took a lot of hard work from all team members to make it a reality."
There's more than just technical excellence at work on the project, though. Akman and his company wanted to ensure there was a human element to the building's creation — and that opportunities were there for those seeking them.
In its initial RFP, the College stipulated that the successful construction manager would need to create and maintain an Indigenous Employment Strategy at the job site. In partnership with RRC Polytech, Akman mandated 20 per cent of all workers were to be of Indigenous descent. The project has since gone above and beyond that, estimating 45 per cent Indigenous participation in the build, as well as offering training, support and mentorship for those on site — many of whom are RRC Polytech grads.
"We made this a big priority from a top-down approach," says Akman. "What we ended up doing is hire an RRC Polytech grad, work with them on the site in a carpentry position, and have mentorship available to them every day.
"When we felt they were up to the challenge, we would have a discussion and say, 'Okay, what trade are you interested in? Let's help you in your career path.' It was a very individual approach — and we were successful in doing this a number of times where we helped these individuals get on with the right trades and develop their skills."
Akman also helps those getting into the industry in other capacities. As a founding board member and past vice-chair of Young Construction Leaders of Manitoba (YCLM) from 2014 to 2017, he assisted those coming into construction with professional development, networking, site tours, and other opportunities.
He says Red River College Polytechnic is present in that work, too, as YCLM always holds a board chair for a student representative.
"It provides a bridge that connects students with the industry," says Akman. "It allows them to visualize their opportunities and access them with a lot less roadblocks. I think it's been very successful on that front, and I know it's something that will continue into the future, allowing a seamless transition between education and the workforce."
Profile by John Gaudes (Creative Communications, 2012)
---
RRC Polytech alumni are In Front of What's Ahead. Discover inspiring alumni stories >