Entrepreneurship grad follows in father's footsteps while showcasing efforts of Indigenous business owners
Derek McCorrister watched his father build two different businesses.
"I grew up in his contracting business, and he built a number of homes in Peguis First Nation," says McCorrister, a graduate of RRC Polytech's Entrepreneurship program. "I was a helper from a very early age and I saw what he had to do to provide for us."
As a young adult, McCorrister worked for his father's second business, a sporting goods store called The Sports Zone, in addition to doing other odd jobs, all while playing competitive hockey. He wanted to become an entrepreneur like his father, but at that time, he was trying to take care of his growing family.
"I had to make a choice for myself and my family to pursue my dream," he says.
McCorrister's parents instilled in him the importance of pursuing an education, and he tried university, but says the setting didn't work for him.
"I needed more structure and smaller class sizes, so I made the switch over to Red River College Polytechnic, and it was the right choice," he says. "I only found out years later when I was attending RRC Polytech that my father attended, too."
McCorrister graduated from the Entrepreneurship program in 2000, around the time his second daughter was born. He says he had many business ideas going into the program, including the inkling that would eventually become his current business, but his big dream was to open a billiard hall and lounge. His favourite part of the program was being surrounded by classmates with the same intention of opening up a business.
"It was cool to see other people doing this research to create something that would shape their future," he says.
After graduating, McCorrister ended up working for Indian and Northern Affairs Canada's Economic Development department. He worked extensively with Indigenous businesses and organizations in the private and not-for-profit sectors until he decided to take a leap of faith.
He knew the door to his entrepreneurship dream would close if he remained a civil servant, but that didn't make it less scary. McCorrister says there were a couple of factors that made the decision challenging — one of them being that his family was continuing to grow and the job with the federal government provided stability and security.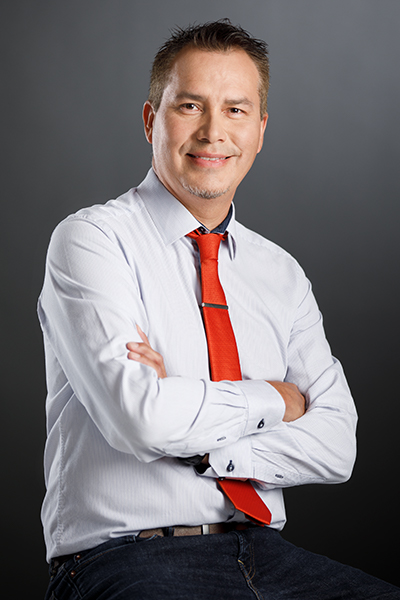 "I didn't want to be involved in contribution funding, in funding other businesses anymore, because I felt like if I stayed there in that capacity, I couldn't pursue what I wanted to do," he recalls. "It was a realization of where I was at the time and where I wanted to be down the road."
After leaving his position with the federal government, he went on to work for the Manitoba Ahbee Festival and the Indigenous Music Awards. After almost four years of overseeing the same operations, policies and procedures day-to-day, McCorrister found working in the arts and culture industry to be "totally exciting."
"There was a lot more flexibility, and it sparked my creativity looking at different funding channels to create the awards show and festival. It was a much-needed change of pace and opened my eyes to where I wanted to go and what I wanted to create."
As part of his position, McCorrister found himself looking after the marketing and graphic design roles for both events.
"It brought back a lot of things I learned in college about how to market a business properly, and it kind of gave me a training session," he says. "If I could market an international festival, then I thought I shouldn't have any problem marketing my own company."
In 2013, McCorrister started Modern Clan Marketing Communications with some partners who were also family and RRC Polytech grads. He says, "seeing that my father opened up The Sports Zone with a family member, I learned that communication is a major factor in the success of a business."
Eventually, his partners wanted to move on to different projects and aspects of their lives. Still, McCorrister believed in the company ever since he had the original business ideas in college, so he decided to become the sole owner and went on to build the business into what it is today.
He now works with a range of clients, including Asensekak Casino, Anishinabek Nation and Nishnawbe Aski Nation. He's hoping to finally open his billiard hall and lounge in a town near Peguis in Spring 2022. It's named after the business he grew up in: Sports Zone Bar and Grill.
As for that growing family? McCorrister now has six children, two of whom are currently attending RRC Polytech in the Business Administration program.
"My younger kids still don't understand what Dad does when they see me on bus benches and in ads, but I'm glad for them to see what I've done for a living and how unique it is."
Profile by Raegan Hedley (Creative Communications, 2016)
---
RRC Polytech alumni are In Front of What's Ahead. Discover inspiring alumni stories >