Civil Engineering grad holds deep RRC roots through support and certification
If anyone knows the power of an industry relationship, it's Robert Okabe.
As CEO of the Certified Technicians and Technologists Association of Manitoba (CTTAM), Okabe leads an organization that certifies aspiring engineering and applied science technicians and technologists, while connecting them to important resources — and to each other.
It's a role he's been in since 2015, and one that keeps him close to his Red River College roots.
"Most of our members are graduates of the College," says Okabe. "So I find it a really good experience for me to interact with future graduates or current students and hopefully, in some way, be able to mentor them and make it easier for them post-graduation."
A Civil Engineering Technology grad from 1983, Okabe recognized early on in his academic life that he wanted to work in the engineering industry. By changing the path he'd initially embarked on and choosing RRC, he helped project his younger self to where he is now.
"I went to university and took the first year of sciences and found myself at a crossroads: is it about the degrees you pick up or the skills that you develop? I was thinking that the Bachelor of Science didn't prepare me for working out there in industry, so I made the change to go to Red River College. I could see that there was a niche that I knew I could fulfill."
After graduation, Okabe went to work at the City of Winnipeg, where he was a supervisor of public operations for 31 years.
In 2015, he joined CTTAM — an organization that's been around for 55 years and has worked in sidestep with RRC for much of that time. Back in the mid-1960s, when the College was still the Manitoba Institute of Technology, it was the first school in the province to graduate technologists.
Both Okabe and CTTAM have generously supported the College throughout the decades. Okabe participates in all nine of the school's Engineering Technology Advisory Committees — which provide direction and curriculum support from those working on the ground — and in 2008, established the Robert Okabe Achievement Award for Civil Engineering Technology.
His reasoning for the support is simple, as he recognizes how important that helping hand can be in propelling students from the world of academia into a lifelong career.
"I had to work a summer job to gain industry experience and a part-time job while attending school to be able to afford to put myself through," says Okabe. "If there's an opportunity to help future students, I just look at it as a way of giving back to the community and back to the program, as well."
One specific initiative that CTTAM has supported through donations is SpaRRCky, the electric car built and operated by Mechanical and Engineering Technology students at RRC, and entered into competition at the Shell Eco-marathon. The event invites student teams from North and South America to design, race and build cars that aim to travel the furthest distance while using the least amount of energy.
Okabe sees that real-world experience as invaluable for a student finishing their time at RRC.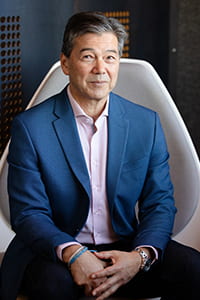 "I look at the enrichment part of it, and it's competition. The students can apply the skillsets they're learning at the College, and the competition provides innovation."
"They're learning from others that they come in direct competition with, as well. So these are all valuable tools that the students can benefit from."
Of course, the COVID-19 pandemic has halted real-world projects like SpaRRCky, and forced even Okabe's industry to slow down and evaluate. Since last summer, CTTAM has closed their old office and moved into a remote environment, meeting members at a co-working space when allowed under public health orders.
"I had the foresight to virtualize a lot of what we have. We went from having a file server to having everything cloud-based, so with a laptop I can be anywhere in the world and view applications from those in Manitoba," says Okabe.
"It's also given us an opportunity to connect better with rural Manitoba and people in the north. CTTAM has members up in Nunavut, so if they can connect to the internet, we can maintain contact with them and give them full access."
The pandemic has also resulted in many people going back to school, changing careers or just brushing up on their skills. Okabe's advice? Use this time to see where the trends are going to be, and get help from organizations such as his.
"Students are always looking for where the career opportunities are going to be. It's sort of our job as an association to be able to look past the tip of our nose and be able to see around the corner a little bit, see what the trends are, and let our members and potential members know," he says.
"For students, look to the marketplace, look at career ads — it's daunting because you're going into a program and you're coming out three years after you started your journey, and a lot of times the labour market changes.
"As a professional organization, though, we're here to support them. We're here to serve the members and try to provide those opportunities — whether they're networking or continuing education — so that they can build their skillsets and continue to succeed."
Profile by John Gaudes (Creative Communications, 2012)
Steps for Career Success
Discover more of our alumni blueprints for career success and get the tools to help plan your next career move.
LEARN MORE