Enhancing awareness: Chemical and Biosciences grad increases supports for Indigenous Peoples
Jake Freeman is incorporating her Indigenous culture into her career.
A proud Métis woman, Freeman is currently working in Agriculture and Agri-Food Canada's (AAFC) Indigenous Support and Awareness Office.
According to AAFC's website, the office was established in 2017 to enhance the department's ability to support Indigenous agriculture, by increasing recruitment and retention of Indigenous employees, and enhancing awareness of Indigenous Peoples and cultures through a department-wide training program.
Freeman graduated from Red River College's Chemical and Biosciences Technology program (now Science Laboratory Technology) in 2000. She went on to work for AAFC for 17 years as a resource technician, where her duties included working with water and soil specialists to support the set-up and operation of field monitoring equipment.
"I'm still at Agriculture and Agri-Food Canada, but I'm on an assignment right now with our Indigenous Support and Awareness Office as a content developer for the Indigenous Awareness Learning Series that we're doing within our department," Freeman says.
"I go through what kind of learning is available through other departments, schools, online, etc. I check and see if there's anything our department can work with other departments on with some of the learning that they're doing.
"I'm also one of three co-chairs for our Indigenous Network Circle, which is for Indigenous employees across the country that work at AAFC. Through the network we've ended up doing a book club called Indigenous Reads, which is available at no cost to employees through the Canadian Agriculture Library. It's all books recommended by Indigenous employees and usually by Indigenous authors, sometimes about culture, language, arts, and even traditional agriculture. It's a way we can help facilitate learning through the Truth and Reconciliation Commission's Calls to Action."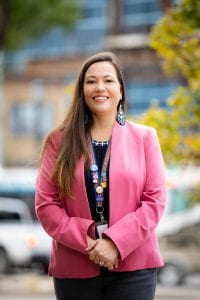 Freeman says she grew up in a "strong Michif household," as her late mother Lorraine co-founded the Métis Culture and Heritage Resource Centre. Freeman believes her culture may have had an impact on her career trajectory.
"I actually worked at a pharmaceutical company for a while, but then — and I don't know if it's part of being Indigenous or just how I am — I like to be outside, not in a lab," Freeman says. "I did lab work for a little while but I didn't really enjoy being inside in such a sterile environment."
"I enjoy being outside. I hunt, I fish, and I'm always puttering in the garden. I enjoy being outside doing field work. I may be more inside now with the office stuff, but it's really important to me that our Indigenous employees and Indigenous Canadians have a voice, and that we maybe change the way our department looks at things."
Freeman says she chose the Chemical and Biosciences Technology program because of RRC's classroom environment and reputation for hands-on learning. She says the program helped her to be more organized in her work.
"When I was doing field work, we did the rural water pipeline, so we were working with contractors and had to keep field books. I was always told I kept the best notes and I think that was from taking the course at Red River," Freeman says.
"Also, when I was doing a lot of field work, I wasn't in a lab, but we were still using field pH, conductivity and salinity meters. I knew based on what I had done at College how to calibrate instruments and the importance of calibrating them and keeping the records of doing that."
In addition to her RRC diploma, Freeman earned a B.Sc. from the University of Manitoba while she worked full-time. While in the Chemical and Biosciences Technology program, Freeman did a memorable summer job placement at Parks Canada, working as a backcountry crew member in Riding Mountain National Park.
"We had to go out and replace signs that bears had chewed on, dig new holes for outhouses, cut down trees and stack firewood, and maintain the trails. It was awesome," Freeman says. "I didn't use any of my schooling for that position, but it was a fun job."
Freeman has also helped with student recruitment for summer positions, and encourages RRC students to apply, while also informing hiring managers of the importance of having college students working in the field. AAFC also has an Indigenous Student Recruitment Initiative, and Freeman says she knows the importance of having a diverse workplace for all students.
Currently, Freeman is working to support Indigenous culture on and off the clock. When she's not at work, she participates in traditional beadwork and teaches others how to do the same.
"I just started doing workshops with other artists to share some of the traditions," she says, noting she and other Indigenous employees at AAFC host a weekly beading circle. "I think doing beadwork has helped me stay connected to my culture. I'm able to share it, while also sharing some of the history behind beadwork and where it came from."
Profile by Jared Story (Creative Communications, 2005)
Note to our readers:
To thank you for your continued support, we're offering free Red River College pins to readers of this blog.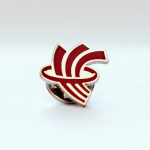 How to claim:
Stop by one of our student stores: The Ox at Notre Dame Campus (2055 Notre Dame Ave.) or The Mercantile at Roblin Centre (160 Princess St.).
Mention this promotion.
Tell the person at the till what you like most about RRC or offer a good (and clean-humoured) joke.
In the event neither store is accessible to you, please email alumni@rrc.ca with your mailing address and a brief line about what RRC means to you, and we'll have one mailed out. Pins may take up to six to eight weeks to be delivered.
Thank you again for your patronage of the RRC Alumni Blog!