Grad profile: Sabrina Rogers (Youth Recreation Activity Worker, 2013)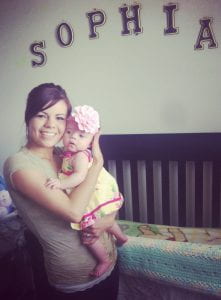 Sabrina Rogers, a Continuing Education student in Red River College's Youth Recreation Activity Worker program, wasn't so sure she'd make it to graduation after she received some unexpected news months before starting her program.
"I found out I was pregnant coming into the program," says Rogers. "Because of that, I wasn't sure if I'd even finish or if I was going to have to drop out. I almost felt bad because it was as if I was taking the seat from someone else who deserved it."
Fortunately, she put all her doubts behind her and surpassed her own expectations. Today Rogers is not only a new mother to a beautiful, healthy daughter, Sophia, but is also only a handful of practicum hours away from completing her program.
"As my stomach kept growing it gave me more incentive and motivation to finish," says Rogers. "I also wanted to do this for my family, instructors and everyone who supported me. My family wouldn't let me drop out, no matter how much I wanted to at some points."
The 22-year-old was born and raised in Selkirk. She moved to Winnipeg at the age of 18 to live with her aunt, who then introduced Rogers to the program.
"I was working as a hairdresser and I wasn't doing much. I was doing the same thing everyday," admits Rogers. "I did a program at the Aboriginal Centre for Policing and Corrections and I had a practicum at the Manitoba Youth Centre, which is where I eventually want to work."
When asked what inspired her to pursue a career supporting youth at the Manitoba Youth Centre, Rogers recalls a special memory where she says it all clicked.
"There was a young girl who was being released during my practicum at the Youth Centre. She lived in the North End and lived with six siblings in a one-bedroom house with her grandfather. Her parents didn't even come visit her the whole time she was there."
"She had no clothes to leave with, so I brought her clothes from my closet. She promised she'd finish her school because of what I did for her. Knowing I gave her that little bit of hope made me want to continue," says Rogers.
When her instructors learned she was expecting, Rogers was given the option to stop the program halfway through and finish the second half in the next year, but decided against it. She credits her instructors for their extra support, which allowed her to finish and attend graduation with her class last June.
Rogers says her instructors often went out of their way to support her, especially after having her daughter in March.
"Right when I had my daughter one course ended and it had a no-late-assignment policy. So a day or two after labour I tried to finish all my schoolwork in the hospital while my daughter napped. Instead of having to get it done, my instructor offered me an extension. They were just so supportive and they pushed me to continue."
Rogers also thanks the Aboriginal Student Support Centre, especially Cheyenne Chartrand, the on-campus counsellor, who opened up new opportunities to her and helped Rogers apply for bursaries.
Today she is completing her last month of practicum at the Victor Mager Boys & Girls Club in St. Vital. She is looking forward to her new career and hopes to start off working in a day care and then move onto a career in the Manitoba Youth Centre when her daughter is a few years older. If the timing comes, she also hopes to finish the second year in the Child and Youth Care program at Red River College, and may even look into the Joint Bachelor of Human Ecology degree program offered with University of Manitoba.
For now, Rogers is enjoying the thrills of motherhood. She hopes her story can inspire other young aboriginal moms to go back to school.
Profile by Elizabeth Catacutan (Creative Communications, 2013)