Careers in science laboratory technology: Lab work puts grads into landscape of research, real-world problem solving.
A professional lab environment is something we've all become more accustomed to hearing about over the past two years. What's beyond the headlines, though? Where are those educated in Science Laboratory Technology going after they graduate?
"It's anywhere that has a small lab in the back or a large lab in the front," says RRC Polytech instructor Michael Judge, who's worked in the Science Laboratory Technology program for the past 14 years.
"There's no such thing as a typical job."
With foundational knowledge in biology and chemistry, grads can take their skills and apply them to a wide range of disciplines, including chemical analysis, research, quality assurance, pharmaceuticals, or biotechnology in industrial, government or commercial laboratory settings.
As Judge points out, Winnipeg has many top-tier opportunities in the industry, including the National Microbiology Laboratory and the City of Winnipeg's Water and Waste Department. Students in the Science Laboratory Technology program have co-op opportunities at these labs, as well as with many other employers, which gives them a foot in the door for entry-level positions.
For Colleen Cottam-Birt (shown above), who graduated from the program in 1999, the co-op opportunities provided were, in her words, life-changing.
"In this course, I found out what I wanted to do for the rest of my life. My first co-op through RRC Polytech was at the University of Manitoba Animal Science Lab. I had a wonderful boss and we developed a friendship that lasted many years," she says.
"My last co-op was my dream job. I was placed at what was then just simply known as the Virology Lab … I have worked at the National Centre for Foreign Animal Diseases (NCFAD) now for 22 years."
Cottam-Birt's experience is familiar to Judge, who has seen many students exit their co-ops with positions they can transition to immediately after graduation.
"One of the big benefits of the co-op is that they're getting that immersion in the workplace, so they're networking, they're getting something on their resumé, and very often, it does turn into full-time employment."
In the two-year diploma program, students are also given the option of completing an industry project instead of a co-op placement.
"We had a local pharmaceutical company that had a lot of phosphate in waste streams," says Judge, citing one example.
"There are limitations to what you can put down the sewer and they were looking at whether they could move their phosphate down their waste pipe using a material called struvite — so we had a summer student working on that to see how viable it was to pull out this pollution."
While this hands-on work is one of the major assets of the program over a Bachelor of Science, the amount of time spent getting through the program and earning credentials — two years, instead of three or four getting a degree — is another bonus for certain audiences.
"We have a fairly high proportion of students who come here from other countries and they're very highly trained, yet unfortunately their credentials might not be recognized here in Winnipeg, so this gives them an opportunity to earn credentials that are recognized and get into the workforce," says Judge.
"We've also had students come in with master's degrees and joined the program because they want that co-op experience, as an entry into the workforce. We've had students who come in just because of that, because of our connection to the employers."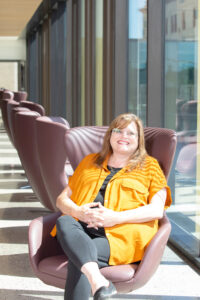 That connection is something Judge and other instructors nurture and work on constantly, ensuring that employers are always part of the conversation when it comes to curriculum, co-op opportunities and making sure grads enter the workforce with the latest knowledge needed to be successful.
"A few years ago, I did a meeting, for example, with the National Microbiology Lab and their researchers to explain our program and how it works," says Judge.
"We also do other kinds of educational outreach. We work with Biosciences Association Manitoba — which is an example of an industry organization where we communicate with them, we go to different events, we put notices in their newsletter, we talk to their members. There are a whole lot of different outreaches."
This all adds up for grads like Cottam-Birt, who's been able to leverage her diploma and the knowledge that comes with it into all sorts of interesting projects with NCFAD.
"My absolute favourite project was working on the Zika virus in 2016," she says. "It was fascinating. I've seen when the new, cutting-edge technology is first used in a lab setting. I've watched as it becomes the new gold standard of testing."
To learn more about the program, visit RRC Polytech's Science Laboratory Technology webpage. The next open start for prospective students is Fall 2022.
Profile by John Gaudes (Creative Communications, 2012)