Careers in disability and community support: credentials, real-world experiences can help shape career paths
When Laura Bustamante first began pursuing a career assisting those with disabilities, she saw herself helping people. What she didn't expect was how the work would help her understand the struggles and discrimination that people face every day.
Bustamante (shown above), an RRC Polytech grad, completed her Disability and Community Support diploma in 2017 after moving to Canada from Chile, then started her career after graduation as a job coach for people with disabilities. She now serves as the Work Experiences Services Coordinator at SCE LifeWorks.
"This is a country full of opportunities for everyone and thanks to my preparation at RRC Polytech, I have not only been able to live and work in Canada with my family, but it's also opened the doors to a meaningful and fulfilling career path that I never considered before — just making a little difference in the lives of the people I support day after day."
A career in disability and community support can take you down Bustamante's path — where you're helping those with disabilities in their work setting — or you may find yourself working in their homes or the communities where they live. The program partners with more than 100 organizations that facilitate connections for students and grads with those who need assistance, so the possibilities are as varied as those entering the workforce.
"All types of people are needed," says Colleen Isfeld, a Disability and Community Support instructor for the last eight years.
"If the interested person is someone changing their career, later in their life, or straight out of high school, it takes different energy, different ages, different interests, different ways of being. If a person is trying to decide whether they're the right type of person for this work, you can find a good fit."
Disability and Community Support is a two-year diploma program where students have the opportunity to learn in the classroom, while taking multiple practicum placements. This gets students out into the same settings where they'll be working after graduation and introduces them to those they'll be working with. That experience is a game-changer, according to Tara Mullen, an RRC Polytech instructor who teaches a practicum course that prepares students for their placement.
"We really encourage students to become familiar with the places where they're going to be providing support right away," says Mullen.
"The first practicum begins in the first term and we have a course called Practicum 1, where students have the opportunity to be guided and prepared for practicum and to be placed in that setting, so that they can gain valuable direct support experience. They do that while taking other courses, and their practical experience enhances the work they do in other courses."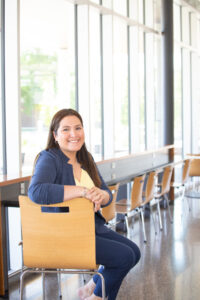 Disability and Community Support students can also be accommodated if they want to do a work-study combination, where they are in courses two days a week and working full-time the other three. Recognition of prior learning is also available.
"We arrange our courses in a way that provides flexibility for them to continue working while they're studying," says Mullen.
After their diploma, grads can find themselves in a wide variety of settings — from helping with daily activities, to home-based tasks like food preparation, to undertaking tasks outside the home like shopping, or just providing emotional support and friendship.
"We're mainly focused on adults who have an intellectual disability," says Mullen. "That's to support people in employment, in their home setting, (or) where they live in their community, so it's very much a holistic and all-encompassing support."
There's also the possibility of continuing education. There's a joint degree option with the University of Winnipeg — where students go on to pursue a degree in Disability Studies — and credit transfer opportunities to other universities, including applying credits to a master's degree at the University of Manitoba. According to Isfeld and Mullen, this can help connect grads to policy, advocacy and leadership roles within the organizations they're working for.
No matter where a student goes, though, the program's focus is on helping them bring their true selves to their workplace roles, whether helping those with disabilities plan and achieve their personal goals, or maintain their health and well-being.
"We have a saying, that you shouldn't leave your soul when you go in the door for work," says Mullen. "Bring yourself, bring who you are — if you want to make meaningful connections with the people you support, that means that who you are as a person is important. It takes all kinds of us."
To learn more about the program, visit RRC Polytech's Disability and Community Support webpage. The next open start for prospective students is Fall 2022.
Profile by John Gaudes (Creative Communications, 2012)