Careers in early childhood education: Whether starting out or upskilling, find the program that fits your next step
For those who love working with young children and helping them succeed, it's never been a better time to turn that passion into a career.
"This is the time," says Bryan Dueck, an RRC Polytech instructor in the Early Childhood Education – Workplace program.
"This is the most exciting time in the early childhood education field, certainly in recent history. There are substantial government incentives that are coming in within the month, there are very significant changes to the wage scale and career laddering, and there's even tuition rebates with details forthcoming. If you have any interest in working with children, get in now — it's a very exciting time."
This new funding from both the provincial and federal levels has opened the doors for new positions, both in leadership and on the ground floor.
To help workers get trained and through those doors, RRC Polytech has two programs available: the Early Childhood Education (ECE) program, which involves learning full-time before heading out on practicum, and the Early Childhood Education – Workplace program, which requires students to have at least one year's experience in the field and allows them to take courses part-time while continuing to work.
For the latter, students will come in seeking an ECE Level 3 designation from the province, which allows them to take on more supervisory roles in child-care settings, from room leadership to managing a centre.
"We would typically see students that have been in the field longer than that one year," says Dueck. "The vast majority of them are looking to leadership positions already. Many of our students kind of know where they're headed.
"Often, we'll see our students within a few months of graduating overseeing curriculum for a smaller group — about 16 children — and have about two or three staff under their supervision. That happens quite quickly."
This is the experience of ECE Workplace grad Amanda Jack, who graduated from the program in 2016 and now has taken on multiple leadership roles thanks to what she learned in the program.
"The program helped me so much with taking skills I already had and helping me hone them," says Jack (shown above). "They helped make me better, not only in the path I chose in life, but also as a person. Immediately after graduating, I was promoted at my job and then multiple times again in the years that followed. Now, I'm managing one 50-space child-care centre and overseeing two others."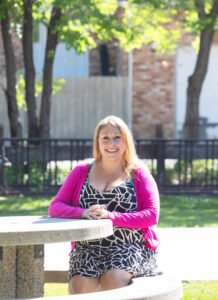 Jack came into her career with the end goal of owning a home, something she was able to do after moving up to a supervisor role in her career.
"It's something I never could have done without the wonderful education I received at RRC Polytech and all the people who supported me through it."
The non-workplace stream of ECE spends more time preparing students for a child-care environment and an ECE Level 2 designation. This is where practicum experience comes in, as those in the program will spend as much time as possible applying their knowledge right on the floor working with kids, and even doing assignments in a real-world setting.
"Once they're in practicum, they're just fully immersed ­­— it's all day, every day," says Angela Swanson, an instructor in ECE.
"It's a really big change from being a student to being in a child-care centre for a full day. It's really loud, it's really exhausting, all your senses are engaged for the whole day. But in that process of practicum, where it's eight weeks long, by the time you're finished your last practicum, you're ready to take off that student hat and put on your staff hat. You've done a lot, you've seen a lot, and you've had a lot of mentorship from staff at the practicum centre, as well as RRC Polytech instructors."
Swanson also points out that a lot of students get jobs at the child-care centres where they spend their practicum, and with the program offered on RRC Polytech campuses outside the perimeter — Interlake and Peguis – Fisher River, Portage, Steinbach and Winkler — grads can help fill the need of early childhood educators right where they live.
"Ideally, we want to have students in practicums close to their homes," says Swanson. "We work with different child-care centres across the province to try to support those rural students and rural centres because we know that there's a really high need for early early childhood educators, especially in rural areas."
Coursework in both ECE programs focuses on emergent curriculum, which puts the child at the centre of learning. This includes a lot of play-based learning and observation, which is where the benefit of working in real-world settings can help speed up outcomes.
There's also a need for careful communication, as child-care centre workers often have to deal with numerous stakeholders.
"We have a series of courses that directly address professionalism in our career; that includes communication with families, partnerships with exterior community organizations and professionals that are adjacent to our field — and how to draw them in and support our network of children," says Dueck.
"We do a lot of work with students in terms of self-reflection. We ask students to reflect on their words and actions and to think about what they can do differently in future situations," adds Swanson. "When they're on practicum, we ask them to self-reflect a lot to get that specific feedback from mentors at the centres."
Finally, to get into a career in early childhood education, a student really needs the ability to embrace their soft skills.
"You have to love kids — you have to be really passionate about working with children because it can be challenging. You have to really want to support those children and those families," says Swanson.
"You need to be caring, friendly, patient, empathetic, understanding and a good communicator — these qualities are crucial to being successful in this field and providing high-quality care for children and families."
Early Childhood Education
Guide the next generation of learners and connect children, families and communities through education. The Early Childhood Education (ECE) and ECE Workplace programs are still accepting applications for the upcoming Fall 2022 intake, but seats are limited so apply today.
learn more
Profile by John Gaudes (Creative Communications, 2012)