Careers in mechanical engineering technology: Grads well-prepared for industry, whether building work spaces or the next wave of transportation
When asked to describe the complex work of mechanical engineers, RRC Polytech instructor Sergei Broeska turns to the movies.
"In Iron Man, they show Tony Stark designing the suit — and he's pulling stuff, interacting with a computer, then he just presses a button called 'build.'"
"What that movie does to manufacturing is it walks all over it, because it doesn't include design, all the steps that go into the process. It takes hundreds of people to make one component, and you don't know that until you experience it."
The actual step-by-step processes are at the core of RRC Polytech's Mechanical Engineering Technology program, a 28-month diploma offering that prepares students to work in the design and production of high-quality manufactured goods.
Broeska has taught in MET since 2019, working mostly in manufacturing-based courses. Students are also trained in other areas such as design, quality assurance, computer-aided engineering, and building systems design and control.
"They certainly get a sample of everything," says Tanya Hansen-Pratt, a first-year instructor in the program. "In mechatronics, for example, we're covering mechanical, electrical and computer engineering and really showing them the possibilities of what's out there. They're getting a taste of a lot of things, and then they can specialize as they go further on in their education."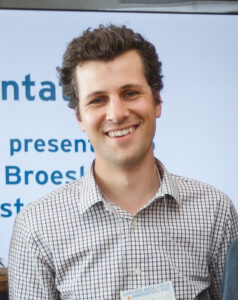 One of the main advantages of the program — two, actually — are co-op terms after the first and second years in the classroom. These four-month opportunities for students to work in the industry allow them to return to the classroom, or enter the workforce, with a much better idea of what will be asked of them in their careers.
"It is an incredible experience for the students," says Broeska (shown at left).
"They're so much more enlightened, and the lightbulb is on, and when I say something, they can put two and two together because they've experienced it. They often come back so much more mature with their professionalism. Because they've worked at a company, they come back with a bunch of knowledge that they've applied."
"We're not just using this information because we're trying to be mean," agrees Hansen-Pratt with a laugh.
"They've now seen it applied in the real world and they can say, 'Oh, that's why this is so important,' and that really helps them in the following terms by taking that real-world knowledge and applying it in the classroom."
One of the best aspects of getting into mechanical engineering in Manitoba is the wealth of industry available right here in the province. Companies that provide co-op work placements, which often turn into career landing spots, include aerospace manufacturers like Boeing or Standard Aero, automotive companies like New Flyer, NTI or NCI, HVAC companies like Price Industries and agriculture sector workplaces like MacDon Industries and Westeel.
Pratt says the possibilities are endless and students will land in the best spot if they keep an open mind regarding all their opportunities.
"I think when most people think of mechanical engineering, they think of big aviation and automotive, so they want to get into those industries — but there's so much more out there."
"I worked in HVAC for more than 20 years, and I swore when I was in school that I would never end up in HVAC, but I ended up there so long because there were so many opportunities to learn. I think that applies to so many other industries."
MET also prepares the students for the workplace, both through the co-ops and through skills taught in classrooms, including in cutting-edge lab environments.
"They get the hands-on stuff. At university, they'll have one or two hands-on labs. Here, they'll work in hydraulics labs, manufacturing labs, electronics labs, they learn how to use enterprise resource software — that is not a thing that universities teach. They are just much more honed to manufacturing, which is great because that's 10 per cent of Manitoba's economy," says Broeska.
Another advantage is who the students are learning from, namely instructors who have worked in the industry and understand what it takes to launch a career.
"We're not only able to understand the academic side, but we also understand the industry that you'll be going into. That's not necessarily a good or bad thing for one student, but if it's something you learn well from, I think that is an advantage," says Hansen-Pratt.
It's an experience that MET graduate Ryan Pammer knows well, having returned to RRC Polytech after a welding pre-employment course to get his diploma.
"Red River College Polytechnic has given me the opportunity to expand my knowledge and grow professionally," says Pammer (shown above), who also obtained his apprenticeship and Red Seal certification in welding through the College.
For Hansen-Pratt, it all comes back to keeping an open mind on where you'll end up, and making use of both the classroom environment and your co-ops to sample what's out there.
"You may end up in an industry you had never thought of in your wildest dreams, but it can turn out to be fascinating. You can end up having an incredible career in something other people don't know anything about. It can be a really niche market."
Mechanical Engineering Technology
Prepare to work in the design and production of high-quality manufactured goods. The Mechanical Engineering Technology program is still accepting applications for the upcoming Fall 2022 intake, but seats are limited so apply today.
learn more