Careers in business: RRC Polytech program prepares grads to get hired by businesses, or start their own
Whether you're selling a product, taking a product to market, working with people or looking to entice investors, a background in business provides a wide range of career paths to be followed.
This idea is at the core of RRC Polytech's Business Administration program, a two-year diploma that allows students to follow an area of expertise — often directly into the workplace.
Business Administration graduate Paul Dorey, CPA, CGA used both his technical skills and the networks he established during his time at school to find what he calls his "forever home" at Talbot & Associates Chartered Professional Accountants, a Winnipeg-based accounting firm.
"One of my former RRC Polytech student colleagues reached out a few years ago and said, 'Hey… why don't you leave corporate accounting and come work for us at our public practice firm?'" recalls Dorey (shown above). "I decided to take a leap of faith and join him. It's been six years since, and I'll never look back."
That kind of grad-to-grad connection is commonplace in Business Administration, where students spend the first term learning foundational skills before branching off into their choice of major: accounting, financial services, human resource management, marketing, and logistics and supply chain management.
Jose Lopez Bueno, an RRC Polytech instructor in the marketing specialization, has seen former students earn many different job titles — social media specialist, marketing coordinator, account manager — but it's the foundational skills that allow graduates to apply them in many different work environments.
"It doesn't matter the title in most cases, because with a Marketing major, what students get is a wide sense of what a company needs to handle to get more customers or get more business from their current customers," says Lopez Bueno.
Students can also continue into their second term with a general studies major, which prepares them for future studies, a career of their choice, or to start a journey as an entrepreneur.
Staying on the cutting edge can be a challenge when dealing with the business world, but RRC Polytech's programming combines the experiences of instructors who have worked in the industry, networking opportunities like the First Impressions event, and real-world assignments that allow students to meet and work with businesses face-to-face.
"We're working with real-life communications businesses and teaming up with businesses or non-profits to help them solve market problems," Lopez Bueno explains. "They're looking for a marketing plan, or positioning for some services, or more donors for a non-profit, and students are working with instructors' advice on how to deliver what the client is requiring, which is what you have to do in a real marketing job."
In human resources, that team-based learning environment is also critically important. As human resource management instructor Lori Duncan puts it, that's because HR often has to build relationships with all areas of the company — from management on down.
"I tell my students all the time, one of the most important skills you need is an influencing skill," says Duncan. "Because what happens in the real world is you have an HR team and you really have to influence other areas of the business and peers in order to make decisions on where things need to go."
"I personally encourage them to look into recruiting roles because it really helps individuals learn about every job there is in the company, and how to develop relationships. It's a great first step."
As for logistics and supply chain management — where jobs like inventory analyst, procurement officer and demand planner are available at every step of the chain — those workplace skills are equally valuable, and students learn them in the Business Administration environment.
"It's about interpersonal communication, social skills and your ability to build rapport and influence a successful outcome," says Abiodun Oke, a logistics and supply chain management instructor at RRC Polytech.
"Supply chain management is a career where you can't really do anything by yourself — you need approvals and buy-in from all the people you're working with. You need negotiation skills, the ability to bargain for a better price, and communication skills."
In the financial services realm, grads find employment across the spectrum — banks, investment companies and insurance companies. And if numbers are your thing, skills built in accounting are universally valuable in the business world, and students often find themselves workplace-ready — heading into entry-level jobs where they get the opportunity to move up the corporate ladder.
"You've got your foot in that door," says Lise Nicole Wall, an accounting instructor.
"If you do well, the business doesn't want to hire externally, they want to promote from within. So quite often, it's just about getting into that corporation or that company, getting an entry-level position and proving yourself before moving up."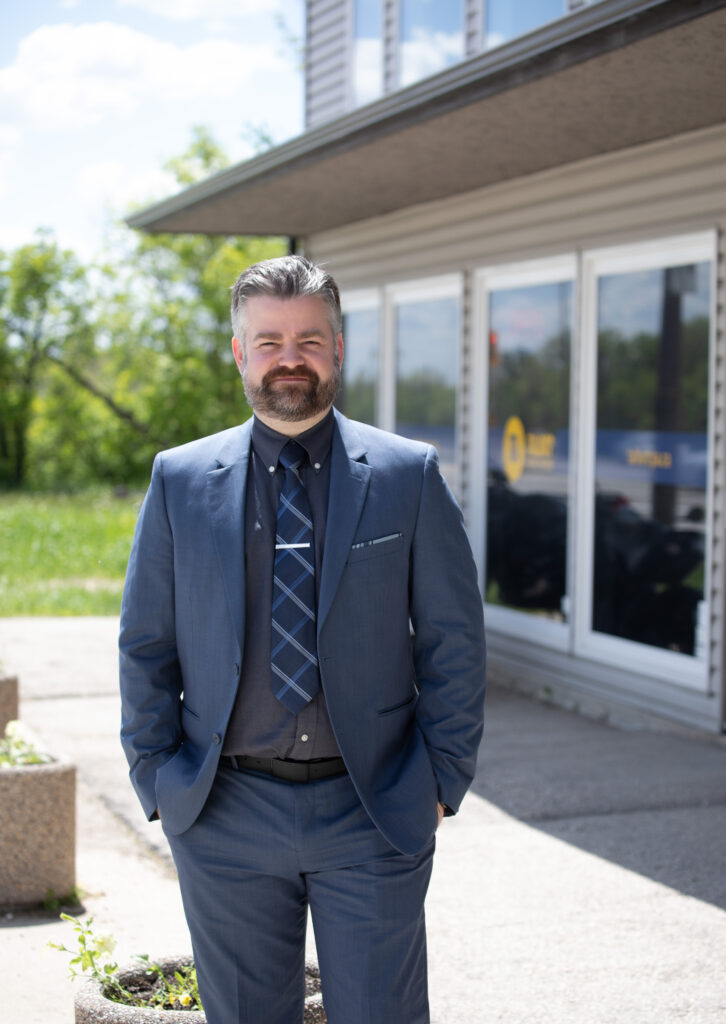 After a second term, Business Administration students also have an option of doing a co-op term, where they get into the workplace and apply their knowledge directly.
It all adds up to a diploma that prepares grads based on their skillsets and where they see their careers going. By building a foundation, it also leaves the door open to changing careers in the future. As Dorey puts it, Business Administration is a jumping-off point.
"RRC Polytech was absolutely instrumental in having me end up where I did," he says.
"For that, I always look back fondly at my time there — the friends I made, the experiences I had, drinking too much coffee sitting at the cafeteria, and how much the faculty helped me to make some of my most important life choices."
Business Administration
Prepare for a career in business, including accounting, entrepreneurship, financial services, human resources management, logistics and supply chain management, and marketing. The Business Administration program is still accepting applications for the upcoming Fall 2022 intake, but seats are limited so apply today.
learn more