RRC Polytech unveils artwork by KC Adams at opening of Roundhouse Auditorium
Today, RRC Polytech unveiled Anishinaabe/Nêhiyaw/British artist KC Adams' Morning Star design — which is embedded within the floor of the College's new Roundhouse Auditorium — at the official opening of the space at Manitou a bi Bii daziigae.
"KC Adams really captured what our College and this building represent," says Fred Meier, President and CEO, RRC Polytech. "Not only did she so thoughtfully include distinct histories and cultures that are part of these lands, but she also integrated what type of learning will happen here. It pays homage to history, but it's here in the present and looks to the future."
Located on the second floor of Manitou a bi Bii daziigae, RRC Polytech's newest building at the Exchange District Campus, the Roundhouse Auditorium is a 210-seat space that will be used for events, ceremonies and collaborative learning. It is sound-proof, ventilated for the use of traditional medicines, and features a curved, panoramic projector to display videos and create an immersive experience.
"This space brings together so many aspects of RRC Polytech's guiding principles: transforming to meet emerging needs, committing to reconciliation and diversity, and deepening our partnerships to maximize prosperity," says Meier.
"The uniqueness of the Roundhouse will create more opportunities to gather, innovate, collaborate and invite the wider community in. It's spaces like this that set RRC Polytech apart and show we can be really proud of how our College continues to contribute to the changing landscape of the Exchange District, Winnipeg and Manitoba."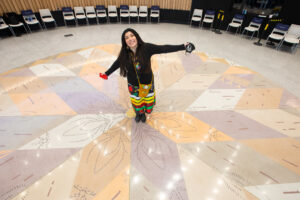 Adams' Morning Star incorporates traditional and emerging technologies in a space designed to bring people together to learn and innovate. Morning Star celebrates traditional Indigenous technologies such as birch bark, which Adams featured prominently in the design. The bark is arranged in a pattern that represents new beginnings — "the first star you see in the morning, the star that guides us."
"Embracing technology is a part of who Indigenous people are and have always been," says Adams. "We [Indigenous people] often incorporate the future as part of our reality, thinking seven generations ahead. How we move and how we navigate now affects the future."
To create Morning Star, Adams collaborated with Antex Western, the same company that incorporated old tools and metal shavings into the shimmering floor of RRC Polytech's Skilled Trades and Technology Centre.
This piece also recognizes each of the Indigenous groups in Treaty One Territory, where RRC Polytech's Winnipeg campuses are located. The morning star pattern frequently appears in star blankets, and comes from the Nakota, Lakota and Dakota nations.
In Adams' work, it overlaps with a medicine wheel motif inspired by Cree tradition, with four colours pointing in four directions. Other symbols in its design include triangles, which were used by all cultural groups living in the area, and snakes that evoke Ojibway water serpent stories. A sash represents the Métis nation, and a prominent "Y" pattern evokes Inuit wrist tattoos.