Change is our business: RRC Polytech incorporates Indigenous content, teachings into commerce and management courses
Instructors and staff from Red River College Polytechnic's Applied Commerce and Management Education (ACME) programs are responding to the Truth and Reconciliation Commission of Canada's Calls to Action by Indigenizing their courses.
That means more students preparing for careers in fields such as accounting, finance, marketing and human resources will learn Indigenous teachings and perspectives on key elements of their curriculum.
So far, 13 per cent of ACME courses feature Indigenous content — an impressive number, given the initiative started at zero in 2019 during the onset of COVID-19 and a massive, College-wide conversion to online learning.
ACME instructor Taras Wasyliw says a group of faculty members were inspired by Carla Kematch, RRC Polytech's Director of Truth and Reconciliation, during a presentation about what sort of Indigenous content they should incorporate in courses they were in the process of redeveloping.
"We all came from different backgrounds and levels of understanding, but we all shared a sense that this was one way to begin righting the wrongs of our business community," says Wasyliw. "The history of colonization is business history — it's about exploiting resources for profit."
Manitoba's Indigenous population is growing fast — as is the province's Indigenous workforce.
"Understanding the history of our relationship — correcting it where possible, and making amends — helps us all," says Wasyliw, while pointing out socially responsible businesses tend to be more profitable.
"So even on a bottom-line level, bringing Indigenous content and teachings into our curriculum is the right thing to do."
Along with other post-secondary institutions in the province, RRC Polytech is a signatory to the Manitoba Collaborative Indigenous Education Blueprint. This fall, the College strengthened its commitment to Truth and Reconciliation by dedicating one of the three commitments of its new strategic plan to embedding the TRC's Calls to Action across all programs and operations.
Kematch says ACME's initiative aligns with Call to Action 62, which focuses on education for reconciliation and calls upon governments to consult with Indigenous peoples, educators and Survivors to help post-secondary instructors integrate Indigenous knowledge and teaching methods into classrooms.
It also aligns with Call to Action 92, which calls on Canada's corporate sector to commit to reconciliation by engaging in meaningful consultation and relationship-building with Indigenous peoples, providing equitable access to jobs and training, and teaching managers the history of Indigenous peoples and the legacy of residential schools.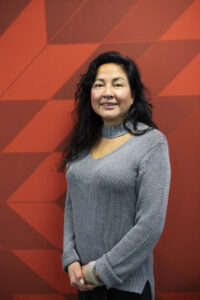 "That encompasses everything from anti-racism training to conflict resolution, which are practical skills you need in today's workplace, and relevant not only to our business students, but all our students," says Kematch.
More importantly, Indigenizing course content can profoundly impact the success of Indigenous learners.
"Many of the students who come here don't even know their own history, their own culture," says Kematch (shown at left). "Some have never smudged before. They don't understand the issues facing Indigenous peoples today. We're trying to open their eyes and minds so that they learn about themselves, as well."
Students in courses with Indigenized content will hear from Indigenous guest speakers on issues important to their field of study, and examine Indigenous case studies that challenge them to reflect on Canada's colonial past and present.
In Lindsay Mulholland's Conflict Resolution course, for instance, students examine the 1995 Ipperwash Crisis. During the crisis, members of the Stony Point First Nation faced down efforts by the federal government to claim the land for a military camp, and an Anishinaabeg protester was killed. The students apply theoretical concepts to an actual case and discuss how the conflict could have been handled differently.
And in Wasyliw's Introduction to Canadian Business course, students learn about the Seven Grandfather Teachings — Wisdom, Love, Respect, Bravery, Honesty, Humility, Truth — and apply them to a group project.
The initiative was supported by ACME Chair Bonnie Van Steelandt and Creative Arts Chair Lisa Jamieson, who were leading the program renewal and wanted to realize two goals: that all students gain a deeper understanding of Canada's relationship with Indigenous peoples, and that Indigenous students have greater access to culturally relevant ways of learning.
"We started calling ourselves a task force," says Wasyliw, noting the group has grown to include at least 15 members. "It's truly been a collaborative effort. Everyone on this team has a role to play and should be celebrated for what we've accomplished together."
The ACME group often turned to Kematch and the College's Elders-in-Residence for guidance and support as questions arose.
"Before long, I just became part of the group, too," says Kematch. "But I told them we weren't going to hand them a pre-made Indigenized curriculum they could take and use. They had to create one themselves."
Resources available to support the team included the 4 Seasons of Reconciliation multimedia training program. Available online to all RRC Polytech faculty and staff, 4 Seasons is designed to foster an understanding of the history of colonization in Canada and how it impacts current issues and Indigenous peoples. RRC Polytech students will have access to it in the near future.
"For any instructor wanting to Indigenize their courses, I say start there first," says Kematch. "Gain that base knowledge, then go deeper into your own course content and find ways to incorporate what you're learning. Do what works for you. Bring in a guest speaker. Watch a video with your class."
4 Seasons has been so effective, Kematch says, that some instructors who initially resisted the need to Indigenize their courses came on board after completing the program.
"I've said it to the ACME group, and I'll say to anyone else who's hesitating to begin: this is a part of our history, and we have to face it," says Kematch. "It's going to be uncomfortable. Fear and discomfort are okay. Don't be afraid of what you don't know.
"Treat this content like you would any other. Do your research, develop your learning outcomes. Don't worry if you're not Indigenous. You're learning with the students, and that's okay, too. If a student asks a question you can't answer, turn to somebody who does."
Wasyliw believes that once instructors in other departments see the results, more will begin Indigenizing their own courses.
"The most thrilling thing for a teacher is when your students are engaged," he says. "Now that we're seeing that in our department, interest is growing, and I can see the number of Indigenized courses rising over time. We've just scratched the surface of what's possible."