Red River College supports community fight against COVID-19
In the midst of a rapid shift to alternative program and service delivery this week, Red River College is dedicating expertise and resources to support the community-wide public health effort to limit the spread of COVID-19 in our province.
"We get through times like these by contributing everything we can to the common cause," says Dr. Christine Watson, RRC's Interim President and CEO. "Like all Manitobans, our faculty, staff and students are resilient, compassionate and innovative. There's a tremendous need out there for everything we have to offer, from materials and equipment to knowledge, resourcefulness and expertise."
This week, 14 students in the College's Health Information Management program responded to a call for support from Manitoba Health. The students are now employed by the department of epidemiology and surveillance, collecting data on COVID-19 cases, which will help with tracking efforts in our province.
The work the students are doing will be critical for program planning and supporting public health during challenging times, says instructor Amanda Burridge, noting the employment opportunity will count as credit towards the practicum component of their program.
"Health Information Management professionals are the people who ensure that Canadians' health information remains accurate, accessible and secure, which is vital during an outbreak," she explains. "Our students will be a pivotal part of the team, ensuring that the most accurate information is available when it's needed."
The students will support the WRHA until the beginning of May, unless the status of the pandemic extends the need for their services.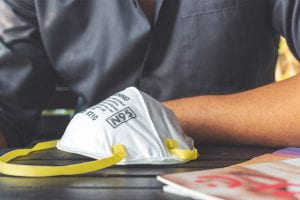 The College is also contributing supplies to combat COVID-19. RRC's Safety and Health Services department has donated 1,669 N95 respirators to the WRHA to be distributed among frontline health-care workers to help address the shortage of critical supplies.
And on the public awareness front, the College is donating radio and digital inventory and external signage to help spread the word about social distancing guidelines, prevention tips and COVID-19 information. The information being shared is part of the Province of Manitoba's 3P's public awareness campaign.
On Monday, RRC transitioned to alternative program and service delivery in order to protect the health and safety of students and employees, while also helping students continue their studies. During this time of social distancing, the College has cancelled all in-person classes and public events on campuses.
For the latest news and information about RRC's response to COVID-19, visit rrc.ca/coronavirus.