Design for mural celebrating Indigenous traditions unveiled
A canvas of colour representing traditional Indigenous teachings and local history was unveiled today at Red River College.
The painting, created by Anishinabee artist Jackie Traverse, will be one of the main design features of the College's new 100,000 square-foot Innovation Centre, currently under construction on Elgin Avenue in the Exchange District.
The piece will span approximately 1,000 square-feet across the inside and outside of the building's fourth floor ceiling, and will be visible from blocks away.
"I've been wanting to tell that story about Indigenous people having a right to be in the downtown area for so many years," says Traverse (shown above, third from left). "If you just wait long enough, your visions, and your beliefs in your heart will find a way to come to fruition. And I'm thankful Red River College picked me to do this."
Traverse is a multi-disciplined Anishinaabe artist who works predominantly with paint on canvas. She was born in Winnipeg and knew she wanted to be an artist from the time she was four years old. A graduate of the University of Manitoba's Fine Arts program, Traverse is known across Canada for her powerful art, which speaks to the realities of being an Indigenous person.
The piece is inspired by The Forks — where the Red and Assiniboine Rivers meet. It will incorporate the 13 moons (which could be interpreted as rocks to represent the Grandfathers), people, bear paws, and the Oodena Celebration Circle. She hopes that each person who views the painting can find their own interpretation or meaning.
"I think it's really important to have it in downtown Winnipeg," she says. "A lot of people don't know the history and don't understand why there are so many Indigenous people in the Portage Avenue and downtown area. Our people have had a history with this place for thousands of years. It's in our blood memory and our DNA. We're drawn to the place of our ancestors and the footsteps they left behind."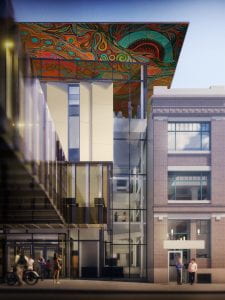 The College collaborated with the Winnipeg Arts Council to select an artist for the project, and worked closely with Diamond Schmitt Architects (in a joint venture with Number TEN Architectural Group) to integrate the painting into the building's design.
"It is a privilege to partner with Red River College to integrate meaningful public art into a major development in Winnipeg's Exchange District," says Tamara Rae Biebrich, Senior Project Manager – Public Art, at the Winnipeg Arts Council.  "Jackie Traverse's work is bold and layered with meaning. Once installed, it will reinforce how public art can tell the stories and shape the identity of our city."
After presenting her initial concept, Traverse collaborated with Haley Zhou, intern architect at Diamond Schmitt, on how to create a piece that could be enlarged to 1,000 square feet and printed on a high pressure laminate panel with a custom artwork top layer.
"It is with this spirit of collaboration that we began our work with Jackie, and she has been an amazing partner who really embraced the potentials of this artwork," says Zhou (shown, second from left). "Her piece is laden with meaning, both personal and meaningful to the Indigenous community at large, and I can't imagine a better way to welcome someone to the Innovation Centre."
The first of its kind in Western Canada, RRC's new Innovation Centre will be a transformative hub for applied learning, research and collaboration. The space will house the College's creative arts, business and technology programs, and will build on the largely successful collaborative learning model used at RRC's ACE Project Space.
Students will have the opportunity to partner with entrepreneurs and businesses to find solutions for real-world bottleneck issues, gaining critical work experience while helping new and growing businesses thrive in Manitoba's economy.
"The concept Jackie presented was very powerful and resonated with the goals the College has for this building," says Patrick Kuzyk, chair of RRC's selection committee for the project. "As RRC grows the number of students, staff, and faculty coming to the Exchange District Campus, we wanted to find a way to showcase our continued efforts in helping to make the Exchange a place to live, work, play and thrive, as well as the area's history, through the spirit of reconciliation."
The Innovation Centre will also house programs and services that enable Indigenous social innovation and community development, encouraging young learners to become leaders and make a positive impact on their communities and around the world.