Apprenticeship bricklayer to represent Canada at WorldSkills Competition in Russia
What started as a summer job for 22-year-old Antonio Neufeld has turned into two years of travel, mentorship and fierce competition.
The Red River College Apprenticeship student will represent Canada this month in the bricklaying category of the 2019 WorldSkills Competition in Kazan, Russia, where he'll face off against 29 competitors from around the world.
"It all started when I came to the College for Level 1 (of the Apprenticeship Manitoba program)," Neufeld says. "I competed in the Skills Manitoba provincial competition here and it's gone on from there."
After taking the top spot at provincials, Neufeld earned the gold medal at the 2018 Skills Canada National Competition in Edmonton. He travelled to Halifax, Montebello and Ottawa for teambuilding and training, and to Australia with 13 other WorldSkills Team Canada prospects for a mock competition.
"It's all been a great experience. Going to Australia helped because you got to see where the other competitors are at in their skill and get a feel for what the competition will actually be like," he says.
Neufeld has been training with his instructor, Brian Gebhardt, every day for the last two weeks, with a focus on learning how to think on his feet.
"Antonio is the best man in Canada in his age category," Gebhardt says. "His basic skills are very good, so what he needs to do is figure out how to approach and attack the situation, and use time management to complete the task. The projects they come up with at the WorldSkills Competition are very ornate in nature and require a lot of experience."
The WorldSkills Competition lasts four days. Each day, Neufeld and the other competitors will be presented with a blueprint drawing of a new project two hours prior to their start time. He'll need to use those two hours to determine how to build the structure, what methods to use, and how to best use his time. He'll then be given five to six hours to complete each project.
Gebhardt says that while some of the other competitors may have more experience, he feels Neufeld can succeed through a combination of physical skill and technical knowledge.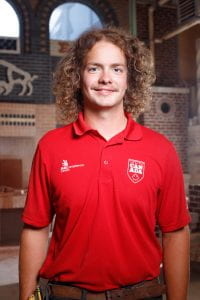 "The true thing about being a bricklayer in general is that you take a pile of bricks and you turn it into something," he says. "We've been practicing curved wall, basic bricklaying, angles and other detailed brickwork that will be incorporated into the project in one way or another."
Neufeld currently works at Realstone Masonry in Winkler, where he learned basic bricklaying before coming to RRC through Apprenticeship Manitoba. The 1,600-hour program allows students like Neufeld to earn mentorship from industry professionals, while developing skills and techniques beyond the basic knowledge.
"I've been focusing on improving these types of skills leading up to the WorldSkills Competition," says Neufeld. "It feels good and hopefully I can keep improving – that's the main goal."
The 45th WorldSkills Competition takes place from Aug. 22 to 27, 2019.