Elders-in-Residence and Knowledge Keepers
Connect on Teams!
Students and staff can join the new Elder's Microsoft Teams site to easily access events, add them to your calendar, and receive notifications. Virtual events and workshops will be hosted via Microsoft Teams.
To join, use code: l317iay
(Select Teams in the side bar of Microsoft Teams (right below chats), click join team in the top right corner, enter the code.)
About Elders-in-Residence
Indigenous world views are centered on relationships and their value – relationships which connect us with ourselves, each other, our environment, and our Creator. It is through our interactions with one another that we are able to form good relations and share valuable life teachings. Elders have always held a positions of high esteem and importance; they are the living libraries that hold the wisdom, history and cultural knowledge of our Nations.
Indigenous Education is stronger at Red River College Polytechnic with the support of our Elders and Knowledge Keepers and through partnerships with the broader Indigenous community.
Our Elders-in-Residence are here to support education through Indigenous ways of teaching, learning and leading. They play an important role in student and staff health, wellness, and cultural and spiritual development. They are here to support all students and staff at Red River College Polytechnic. Located in the Indigenous Student Support Centres at the Notre Dame and Exchange District Campuses, Elders-in-Residence offer cultural teaching sessions, one-on-one appointments, classroom visits and lead ceremonies.
Paul Guimond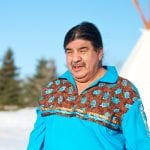 Paul Guimond is part of the Turtle Clan and his spirit name is Okonace (Little Eagle Bone). He and his wife Kim have three children, 16 grandchildren and four great-grandchildren. Paul is a Sundance Bundle Carrier (Chief), Sweat Lodge Bundle Carrier (Water drum) and Dark Room Bundle Carrier. He studied Counselling Skills at the University of Manitoba. In Sagkeeng, Paul sat on Chief & Council for 20 years and served as the School Board Chairman for ten years. He is an active elder with Addictions Foundation of Manitoba and Sagkeeng Child & Family Services, offering healing, spiritual growth and personal development through ceremony, programming and establishing healthy relationships. Paul is also a certified coach in hockey, baseball and lacrosse. Paul joined the Elder-in-Residence Program at Red River College Polytechnic in 2018.
Richard Curé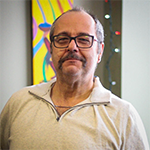 Richard is part of the Sturgeon Clan, and his spirit name is Buffalo Man (Mashkode – Bizhiki). He is Métis and discovered the Red Road after becoming a foster parent with Sagkeeng Child and Family Services. Uncovering his Indigeneity and attending Sweat Lodges and Sundances helped Richard overcome personal adversities, such as the workplace injury that prevented him from continuing his career in mining.
For the last three years, Richard has been a Knowledge Keeper in Sagkeeng First Nation with Sagkeeng Anicinabe High School. He takes youth out onto the land picking medicine and collecting grandfathers (sacred stones for Sweat Lodges), firewood, and teepee poles. He and his wife Tammy have four children and four grandchildren. Richard has facilitated workshops such as medicine picking, hand drum building, and Sweat Lodges with organizations such as Ma Mawi Wi Chi Itata Center, Sagkeeng Child and Family Services and RRC Polytech.
As part of our national journey with Reconciliation, we encourage all our Red River College Polytechnic Community to learn more about the role of our Elders and to connect with them. If you would like to meet with an Elder or discuss requesting an Elder for a teaching, sharing or healing circle, or learn more about how time with an Elder can help support your curricular outcomes, please reach out to us.